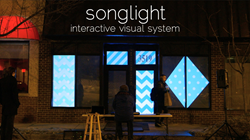 "We had everyone from total amateurs to professional musicians performing, and every single person intuitively found a new way to perform and interpret the imagery." - J Matthew Nix, Project Lead for Chicago Projection Mapping
Chicago, IL (PRWEB) March 02, 2014
Chicago Projection Mapping (CPM), a Chicagoland-based content and 3D projection company, revealed today "Songlight", an interactive visual system designed around an augmented piano keyboard. By building upon relationships between music, color, and light, Songlight creates a beautiful, synesthetic, never-before-seen experience. The announcement of Songlight also marks the first public release from Chicago Projection Mapping's new experimental division, CPM Labs, a dedicated wing of the company devoted to exploring never-before-seen applications of projection mapping.
The first public display of Songlight was held on February 22nd in conjunction with the Northalsted Business Alliance Winter Fest, after being approached for a "storefront" display for the festival. During the evening presentation, festival attendees were invited to sit at an outdoor piano and play a song of their choosing. Not knowing the implications, dozens of guests took their turn, suddenly bringing the storefront and street to light. Songlight was an immediate hit, eliciting surprise, excitement, and awe from performers and passerby alike. Video of the display is available via Chicago Projection Mapping's Youtube channel.
"We couldn't be more pleased with the initial reaction to Songlight." said J Matthew Nix, project lead for Chicago Projection Mapping and lead developer for Songlight. "We had everyone from total amateurs to professional musicians performing, and every single person intuitively found a new way to perform and interpret the imagery. To our team, that is a resounding success."
The technology behind Songlight carries far-reaching applications. Due to the incredible flexibility of the medium, visuals can be configured in an infinite number of ways, including customized color, texture, video, and full-motion animation, and provides scalability for displays ranging from five square feet to fifty-story skyscrapers. The versatility of Songlight promises future applications for incorporation in brand launches, live events, corporate galas, and viral marketing efforts.
Songlight also marks a first major success for Chicago Projection Mapping's experimental division, dubbed CPM Labs. Building upon the untapped potential of the technology behind of projection mapping, CPM Labs seeks to push the medium into new and uncharted territories, particularly focusing on interactive applications of projection mapping in live settings. CPM Labs looks forward to additional releases in coming months.
Chicago Projection Mapping continues 2014 with ongoing displays across a number of industries. In addition to further release of cutting-edge interactive projection mapping, CPM remains at the forefront of midwestern mapping, including architectural projection mapping, projection for live events, 3D and 4D mapping displays, and projection mapping for trade shows and corporate events. For inquiries or a free quote, please email info(at)ChicagoProjectionMapping(dot)com.
About Chicago Projection Mapping:
Based in Chicago, IL, Chicago Projection Mapping is a full service content creation and 3D projection mapping company, serving the corporate, event, meeting, and convention sectors. For more information, please visit http://www.ChicagoProjectionMapping.com, or call 630-620-0000.