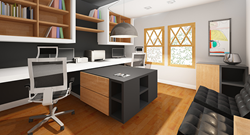 This is certainly the way to go. No designer I ever hired came close to the quality of work that we got out of Arcbazar. In fact, almost every design submitted was better than any design I ever got from hiring local designers
Cambridge, MA (PRWEB) February 28, 2014
Arcbazar announces a crowdsourcing platform for clients to generate several design concepts for their home office spaces.
As the number of Americans working from home continues to grow home offices are becoming increasingly common; many home-workers are now turning to Arcbazar.com to design an effective home office.
In February 2013, Forbes Magazine published an article which stated that "30 million of us work from home at least once a week." With more business being handled electronically, and meetings moving from the boardroom to online hosting services, many workers are given flexibility within their weekly work schedule to conduct their virtual business from home.
Just as entrepreneur Jason Fried describes in his popular TED Talk, one's work location is typically the toughest place to get anything done due to frequent distractions and interruptions. Studies have supported this conclusion; one recent study has shown that working from home actually increases productivity, finding "a positive relationship between the ability to telework and well-being which in turn contributes to more productive workers."
Nonetheless, a teleworker's productivity still hinges on his or her ability to tune out the distractions of home. Across the board, working-from-home advice columns agree that productivity is most effectively achieved by establishing an office space which can separate a telecommuter from temptations and disturbances at home. But is a separate home office really necessary for those who only work from home once or twice a week? Perhaps not. Yet, for the projected 4.9 million folks who will be full-time telecommuters in 2016, a home office is likely the best solution to keep productivity high.
In designing a home office, there are myriad factors to take into consideration - everything from equipment to lighting to layout will determine just how conducive one's office is to actually getting things done. With all these factors to consider, many telecommuters are turning to Arcbazar.com to solicit plans for creating a productivity-boosting home office.
Arcbazar.com is a first-of-its kind crowdsourcing platform for architecture and design services. Leveraging a global talent pool, Arcbazar facilitates competitions in which architects and designers from around the world compete for the prize money attached to a client's home remodeling or interior design project. Arcbazar allows the host to easily communicate their requirements, specifications, and even upload pictures of the existing space, making the online service an ideal way to glean multiple solutions to the challenge of remodeling one's home to incorporate a new home office.
One example of a successful home office design contest is the Modern Home Office contest hosted by Alexandre of New Jersey. After posting all of the requirements, dimensions and floor-plans of the space to be renovated, and prize money for the winner, Alexandre sat back and waited for designs to roll in. The result? In her words, "wow were we impressed with what we got for our money! The office competition had 17 submissions and some submissions included 2 designs. In total about 25 designs were submitted for the office project alone!" Mihaela Staykova, an architectural designer from Bulgaria was the winner of her contest.
Taking her praise for the site's effectiveness one step further, Alexandre added: "This is certainly the way to go. No designer I ever hired came close to the quality of work that we got out of Arcbazar. In fact, almost every design submitted was better than any design I ever got from hiring local designers." However, all good things come with a catch. There was one hang-up with which Alexandre had a qualm: "I actually feel bad only paying $420 for the winning design (60% of $700). Mihaela did a wonderful job and deserved to be paid more."
Arcbazar's effectiveness lies in its ability to inexpensively provide the contest host a plethora of design options which, along with furniture and interior design suggestions, allow the homeowner to pick and choose which features will work best for him or her. Especially with a home office, it is important to be able to envision the finished room. With an average of 9.5 submissions per contest, Arcbazar allows the host of the contest to do just that. Arcbazar also offers a user-friendly award estimation tool for clients.
With the number of home offices on the rise, and so many factors dictating the effectiveness of a home office, Arcbazar proves to be the perfect solution for designing the ideal home workspace.