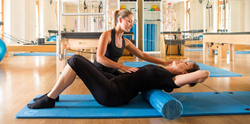 Pilates doesn't just help the weight to come off, it helps it to stay off.
(PRWEB) March 05, 2014
People attend Pilates classes for a variety of reasons says Gollan, some go looking for weight loss, others want flexibility and a more toned body. Then again there are specific exercise programmes for women who are pregnant, for instance, or who make a living as a professional athlete.
She adds: "While Pilates isn't designed to be a quick weight loss tactic, the exercises that are done in Pilates can support weight loss, and can lead to a dramatically improved lifestyle.
"Best of all Pilates can lead to a very toned and athletic physique –and an increased awareness of the body. Pilates doesn't just help the weight to come off, it helps it to stay off -something that many quick weight loss methods just can't do."
In her article Pilates Classes: 15 thing to use for quick weight loss, former professional dancer Gollan goes on to list other ways to use Pilates in a bid to shed excess flab and also talks what for anyone contemplating a class should consider bringing with them:
1. Drink Water
Those attending Pilates classes are advised to sip on around one pint of water for every hour that they work out. That's because water doesn't just rehydrate the body and provide it with more energy, it also flushes out toxins (which are released when fat breaks down). This in turn helps protect both the kidneys and the liver.
2. Alternative Workout Drink
Those who get a bit bored with drinking water all the time should consider bringing an alternative hydrating drink to Pilates class. This could include coconut water or other drinks which contain electrolytes. Sugary drinks should definitely be avoided as it leads to increased tiredness following the initial burst of energy.
3. Pilates Mat
A slightly thicker mat than the type used for Yoga, a Pilates mat should really measure at least 10 mm in thickness. This is important so that the spine is protected during exercising.
4. Comfortable Clothes
Clothes that are neither restrictive nor too loose are essential for a Pilates class. In the case of the former it doesn't allow for flexibility while in the latter it can be difficult for the Pilates instructor to tell whether movements are being carried out properly or not. Cropped leggings and fitted knee-length shorts are ideal. Sports bras are good for women since they prevent wire or clasps digging into the flesh.
5. Socks
Breathable slip-proof socks should be worn on the feet when taking part in a Pilates class. Shoes prevent ankle flexibility and should literally be left at the door.
6. A Change of Clothes
Those who have to go home after their Pilates class via public transport will probably want to bring a change of clothes with them to class.
7. Hand Towel
Hand towels are excellent for excess sweat (especially during a weight loss class). It can also double as a neck support.
8. Smart Phone
It's possible for those attending Pilates classes to track their progress with a number of Smartphone apps. They can count calories lost, stamina and number of heart beats during exercise etc.
9. Music
Some individuals enjoy listening to music while exercising, especially when practicing along at home. The best kind of music to listen to is that described as 'relaxing and meditative.' In other words, Pilates exercisers should avoid any music with a strong beat as their flow should be natural.
10. Pilates Resistance Band
These are excellent for resistance training and increased effort results in more calories being used up.
11. Hand Weights
These are also excellent for increasing weight loss and improving posture and strength. They work by making abdominal exercise more difficult.
12. Exercise Ball
Some studios provide these, others require those attending classes bring their own.
13. Magic Circle
This is a ring which adds resistance onto both the flexing and the relaxing movements of muscles.
14. A Friend
This aids in relaxation during an initial class but most Pilates classes are friendly anyhow and certainly the instructor should be welcoming.
15. Enthusiasm
It's important for those attending classes to feel excited and motivated. This way they will get the most from their sessions.
More information on Pilates can be gleaned from the Inner Strength Pilates website. They also offer Barre and Reformer classes. Find a class timetable list online and check out the company Facebook or Google + pages at Goodwood and Hyde Park.