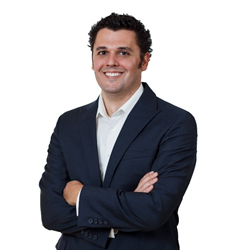 It's not easy to stand out in this area. I've been supported by a tremendous team and owe a great deal of the success I've had to my support staff at Agent Alliance
Coto de Caza, CA (PRWEB) February 28, 2014
Just over one year ago, Coto de Caza local, James Hoff began a new career as a Realtor® in what many would argue is one of the most competitive and saturated geographies in the country. James says "It's not easy to stand out in this area. I've been supported by a tremendous team and owe a great deal of the success I've had to my support staff at Agent Alliance". He continues "I come from a selling background and in most cases the skillsets transfer from one industry to the next. Learning the lingo and the sales process is a whole different story and that's one of the major benefits in working with the experience that comes with Agent Alliance".
In his first year, Hoff closed thirteen purchase/sale transactions. "You can't learn everything in a day and I certainly don't claim to know everything about the business in just one year." He goes on, "I was fortunate to be able to close the number of sides that I did and with that there is a significant education that comes with each deal that has shortened the learning curve for me."
Agent Alliance OC is made up of just under forty agents in Orange County, CA and has grown to that size in just a few years. The unique structure that the Agent Alliance OC staff has created allows agents to operate more efficiently and spend more time in front of clients and prospects by handling the majority or their marketing and back-office support all under one roof.
The newest opportunity that Agent Alliance OC has rolled out is a mentorship program for new agents and James Hoff is the first agent to be offered a leadership role as a Mentor. Steven Bullock, Contract Manager at Agent Alliance OC, explains "We are not secretive about what we do. James takes advantage of the services we provide to their fullest and he's learned quickly because of that. We invited him to be the first mentor of new agents for many reasons including: 1. He was successful in his first year and asked a lot of questions; 2. Number of deals aside, he is still a 'newer' agent and as a result can relate more directly to where they are coming from as they are getting started. The sales background he comes from is a bonus; 3. Last but certainly not least, teaching others what you know is a great way to continue strengthening one's own skillset. Hearing questions from other new agents will continue reinforcing James' foundation while pushing him to understand the business and industry enough to explain it simply to new agents". Bullock closes with, "Aside from actual experience, teaching is one of the best ways to learn".
Hoff has not lost sight of his goal to double his business in 2014 both in sales volume and number of transactions. In closing James states "It's time consuming for sure" … "managing my time properly is more important now than ever but I admit that this program will selfishly help me push my business to the next level as well."
To read additional comments from Hoff, visit http://jameshoffrealty.com/agent-alliance-mentor/.
James Hoff's team currently ranks #1 in Keller Williams Mission Viejo, #3 of nearly 93,000 Keller Williams agents and teams internationally and currently sits comfortably in the top 3 of more than 20,000 Orange County Realtors® from all brokerages.
For the most current Orange County home listings and information on the market, visit http://www.jameshoffrealty.com and join our Facebook community at http://www.facebook.com/LiveInSoCal. To learn more about Agent Alliance OC, visit http://www.agentallianceoc.com.
About James Hoff:
Leading Southern California Realtor® James Hoff recently finished his first year in Real Estate with 13 sales and 24 total transactions. Hoff has been in the sales arena for more than ten years, having worked for companies including New Balance, DHL and Callaway Golf.
James' current team includes an in-house Contract Manager, Transaction Coordinator and Marketing Department that allows him to focus his attention in the field networking with clients, selling homes and remaining in front of and up to date on the current market conditions.
Leveraging the power of a national network, Hoff plans to assist with closing deals in his local market as well as on vacation homes, rental properties and more while connecting with Realtors® across the country to create positive business partnerships.