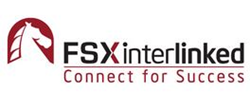 We are very excited to be participating in the upcoming REISA event.
(PRWEB) March 02, 2014
FSXinterlinked, the premier investment conference in the US, announced today that they will be at the upcoming REISA Spring Symposium March 16-18, 2014 at the Sheraton San Diego Hotel & Marina.
FSXinterlinked, with quarterly investment conferences hosted throughout the U.S., creates a forum for emerging growth companies seeking capital to present to a nationwide network of financial investment professionals. The FSXinterlinked network of independent broker/dealers and partnership with Interlinked has a combined sales force of thousands of accredited investors looking to invest in companies of all sizes and industries.
REISA attendees that visit the FSXInterlinked booth will receive guest passes for the upcoming FSXinterlinked event.
Delray Wannemacher, FSXinterlinked Executive Director, stated, "We are very excited to be participating in the upcoming REISA event." Wannemacher invited those who plan to attend the REISA event to stop by the FSXinterlinked /InterlinkedTV booth at REISA to see how FSXinterlinked & Interlinked can help companies reach thousands of potential investors.
About FSXinterlinked Investment Conference
FSXinterlinked is the premier investment conference organization in the United States. Founded as Financial Services Exchange (FSX) in 1983, it is one of the longest standing and most trusted investment conferences in the country. To register, please go to FSXinterlinked.
Safe Harbor Statement
This press release may contain information that constitutes forward-looking statements made pursuant to the safe harbor provisions of the Private Securities Litigation Reform Act of 1995. All statements, trends, analysis, and other information contained in this press release, including words such as "anticipate," "believe," "plan," "estimate," "expect," "intend," and other similar expressions of opinion, constitute forward-looking statements. Any such forward-looking statements involve risks and uncertainties that could cause actual results to differ materially from any future results described within the forward-looking statements. Risk factors that could contribute to such differences include those matters more fully disclosed in the Company's reports filed with the Securities and Exchange Commission. The forward-looking information provided herein represents the Company's estimates as of the date of the press release, and subsequent events and developments may cause the Company's estimates to change. The Company specifically disclaims any obligation to update the forward-looking information in the future. Therefore, this forward-looking information should not be relied upon as representing the Company's estimates of its future financial performance as of any date subsequent to the date of this press release.