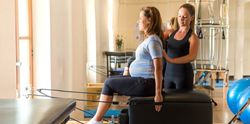 Pilates can also help make for an easier delivery and a faster recovery time.
(PRWEB) March 11, 2014
"Pilates can also help make for an easier delivery and a faster recovery time," former professional dancer Gollan asserts, in her new article titled Pilates in pregnancy provides these 15 benefits for better health.
15 Benefits of Pilates in Pregnancy
1. Maintaining fitness and energy throughout pregnancy
Pilates is a recommended exercise for pregnant women. That's because it can help with energy throughout the pregnancy. It can also help with maintaining fitness, allowing women to get back to their previous pre-pregnancy routines more easily following the birth.
2. Improving Breathing
Breathing exercises in Pilates for pregnancy focus on deep, abdominal breathing, ensuring the woman remains relaxed and focused. Deep breathing can also lead to better health, lowering high blood pressure, stress levels, and decreasing back and neck pain. The breathing exercises assist with keeping the abdominal muscles well-toned, even throughout the later stages of pregnancy. In addition, the deep, controlled breathing techniques that Pilates teaches can be very useful during labour.
3. Easing Discomfort
Aches and pains during pregnancy are generally considered "normal" but it doesn't have to be that way. Many unpleasant problems associated with pregnancy can be greatly improved with Pilates. The exercise routine gently stretches tight muscles in the back, legs, and hips, and helps reduce pain in the back, ribs, hips, and neck. It can also lessen leg cramps and reduce the size of swollen feet and hands, making for an easier pregnancy overall.
4. Strengthening Tummy Muscles
A strong core helps tummy and abdominal separation to go back to their original pre-pregnancy state.
5. Improving Alignment
Pilates also assists with balance. This can be very beneficial during the later stages of pregnancy. Pilates also helps to support joints and ligaments, allowing for muscular endurance and a healthy posture.
6. Making Delivery Easier
Pilates is renowned for helping to improve health and energy throughout pregnancy. It can also help to prepare the body for labour and delivery. Keeping fit during pregnancy can help to "prep" the body in other words and makes a big difference during delivery.
7. Speeding Up Recovery Time
Pregnancy exercises in Pilates gently work out the core and help to stabilise both the back and the pelvic floor. These exercises help a woman to 'bounce back' easier.
8. Using a Certified Pilates Instructor
While some Pilates exercises can be done at home, it's important for a woman to take a Pilates class first to familiarize herself with the techniques and movements beforehand. That's because some of the exercises some may require modification in order to ensure their safety for pregnancy, and to maximize benefit from the movements.
9. Finding a Pilates Instructor with Experience in Pregnancy Exercising
A knowledgeable Pilates instructor can modify the Pilates exercises allowing the woman to focus on the training, rather than having to worry about whether an exercise is safe for pregnancy.
10. Focusing on Safe Pilates Exercises During Pregnancy
A few examples of safe exercises that are especially beneficial during pregnancy include hip rolls, planks, piriformis stretch, and the abdominal roll down.
11. Monitoring Energy Levels
Pilates in pregnancy should be enjoyable and fun, with a focus on healthy and gentle exercise. Women should always listen to their body, and never push themselves to do any exercise which causes discomfort or pain.
12. Staying Hydrated and Upping Caloric Intake
Pilates and other exercise burns calories, so it is essential for women to ensure they are getting enough to eat. Eating and drinking enough is important for maintaining energy levels.
13. Not Overstretching
Overstretching during pregnancy can be dangerous. During pregnancy, the body releases the hormone "relaxin," which makes muscles and ligaments looser. This means that is easier to overstretch the ligaments, causing joint instability. While stretching is an important part of maintaining flexibility, it's important to avoid developing new ranges of flexibility during pregnancy, and to exercise with care to avoid placing stress on the joints and pelvis.
14. Wearing Comfortable Clothing
Comfortable workout clothes that provide proper support without being too restrictive.
15. Finding Individualised Classes
Every Pilates in pregnancy exercise program should be individualised for maximum personal gain.
Inner Strength Pilates and Barre offers individualised Pilates classes and specialise in Pilates in pregnancy, as well as post-natal care. A class timetable is available to book.
More information can be obtained from the Facebook page and the Google Plus pages.