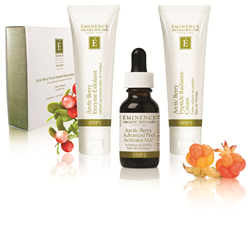 Vancouver, BC (PRWEB) March 03, 2014
What if you could discover all the benefits of a chemical peel and microdermabrasion treatment using natural and organic skin care? This spring, Éminence Organic Skin Care is thrilled to introduce the Arctic Berry Illuminating Collection, a new 3-step peel and peptide system to help you transform your skin and reveal your radiance naturally. Begin with an active exfoliation using papaya enzyme and ground wild cherry bark, followed by an activating peel created with naturally-derived acids from flowers and sugar. Then apply a soothing and revitalizing moisturizer with the illuminating and collagen-boosting power of hibiscus seed botanical peptides, yellow plum, and gardenia stem cells. An exquisite blend of arctic berries, lingonberry seed oil and hibiscus seed extract forms the base of all three products for an active renewing and resurfacing system that is safe for all skin types, including sensitive, rosacea and acne-prone skin.
"Peels boast amazing transformation of the skin's appearance but most of them contain harsh synthetic chemicals that can actually have damaging effects on the skin," says Boldijarre Koronczay, President of Éminence Organic Skin Care. "We have formulated an all-natural peel that offers our customers the amazing results that they are looking for while being an effective and safe choice."
The following products are included in the Arctic Berry Illuminating System (suggested retail price, $130):
Step 1: Arctic Berry Enzyme Exfoliant
Enzymatic and manual exfoliator for all skin types.
Step 2: Arctic Berry Advanced Peel Activator MA10
Multi-acid 10% peel activator for all skin types.
Step 3: Arctic Berry Peptide Radiance Cream
Soothing peptide cream for all skin types.
Use the Arctic Berry Peel & Peptide Illuminating System and see incredible results*:

Restores radiance 80%
Reduces fine lines and wrinkles 80%
Reduces dark spots 80%
Improves dullness 100%
Percentage of respondents reporting at 4 weeks. Protocol included professional and at-home treatments. Clinically tested by an independent FDA Certified Laboratory.
The Arctic Berry Peptide Radiance Cream can be purchased separately as a daily anti-aging and illuminating moisturizer (suggested retail price, $90). The Arctic Berry Peptide Radiance Cream alone is clinically proven to dramatically improve the appearance of fine lines and wrinkles, increase collagen production and decrease wrinkle depth.
Professional treatments are also available at select spas across North America. Visit http://www.eminenceorganics.com to locate a spa near you.
Give your skin a fresh start this spring with Éminence Organic Skin Care.
About Éminence Organic Skin Care
Éminence Organic Skin Care is the award-winning provider of the most effective skin care products in the natural and organic skin care industry. With more than half a century of herbal craftsmanship and innovation, and several centuries of unsurpassed skin rejuvenation techniques unique to Hungary, we offer the highest quality natural skin care to leading salons, spas and their clients in more than 25 countries around the world. Our superior spa treatments and products rely on a unique combination of hand-picked fresh ingredients. Vitamins are captured in their all-natural fresh base, offering dramatic results as actual seeds, pulps and peels begin the regenerative and healing powers that only nature can produce. Voted "Favorite Skin Care Line" by spa professionals and seen as Hollywood's skin care secret, with devoted fans such as Madonna, Jessica Biel, Katherine Heigl, Jena Malone and Mark Ruffalo, we are renowned for premium organic and Biodyanmic® skin care that enhances your well-being naturally. Our commitment to the environment is integral to our business practices and we strive to create products that are good for the earth as well as good for the skin. By enlisting wind and solar power energy in the making of products, recyclable packaging with vegetable-based inks, geothermal heating in the laboratory, an eco-alternative design of our head office we do all that we can to combat climate change. Starting in the fall of 2012, our Forests for the Future initiative brought our commitment to the environment to a whole new level by planting a tree for every product sold. Visit http://www.eminenceorganics.com for more information.