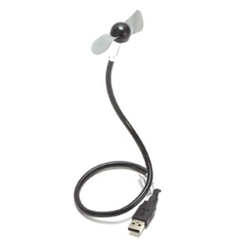 (PRWEB) March 02, 2014
Recently, Hiconn Electronics, China's well-known electronics product manufacturer and retailer, has introduced its new USB Powered Portable Fan selection. Now, all these high quality fans are provided with great savings: all of them are available at discounted prices, up to 30% off.
According to the CEO of the company, its latest designs of USB Powered Portable Fans are specially made for the spring 2014. "We are proud of our new items. The special offer will be valid until the end of March. This is a very good opportunity for those who are in need of user-friendly fans," he says.
Here are some details about the company's USB Powered Portable Fans:
--USB Powered Portable Fan with soft and safe nylon blades.
--Compact and lightweight, USB Fan fits easily into notebook case.
--Soft and safe nylon blades circulate steady stream of cool air.
--No batteries needed, plugs into USB port.
--Flexible gooseneck for easy positioning.
--Soft metal-neck length: 400MM
--Power mode: USB bus power.
--Rotatable in all directions.
--Plug & Play, USB Port.
Besides the brand new USB Powered Portable Fans, the company offers a huge selection of high end products: Active Mini DisplayPort 1.2 to HDMI 1.4 Adapters, HDMI Extender Adapters, HDMI products is offered at this popular one-stop store: VGA+R/L Audio to HDMI Converters and so on.
About Hiconn Electronics
Hiconn Electronics (Shenzhen Hiconn Electronics Co. Ltd.) is devoted to designing and manufacturing a wide range of connection cables and customized cable assemblies, offering many HDMI cables, VGA cables, SATA cables, USB cables, 1394 cables, DVI cables, SCSI (Small Computer System Interface) and more. For more information, please visit http://www.hiconn.net/.
Contact Person: James Yin (Sales Director)
Company Name: Shenzhen Hiconn Electronics Co., Ltd.
Address: Shenghua Building., Xixiang Road., Baoan District, Shenzhen, Guangdong Province, China
Zip Code: 518102
Tel: +86-755-8109 8345
Fax:+86-755-2779 3497