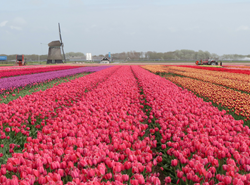 Amsterdam, Holland (PRWEB) March 06, 2014
Each year the tulips put on a beautiful show throughout Holland. Visitors should expect the peak bloom in April. The best place to see them is at Keukenhof, which is located outside of Amsterdam. The Keukenof gardens open March 20th this year and close May 18th.
Tulips are planted throughout the country, and are abundant in between the canals. Amsterdam's Canal Ring is one of the world's most unique urban landscapes. They are lined by elaborately decorated residences and warehouses built in the 17th century. The Canal Ring's network of intersecting waterways was added to UNESCO's World Heritage List in 2010.
One of the best ways to view the tulips is by taking a cycling tour. The bike is the primary form of transportation in Holland. It is estimated that there are 18 million bicycles in the country. Join the fun and pick an organized tour of the area.
TripTrist offers cycle tours from all over the world. A cycle tour through Northern Holland will take travelers from fields of tulips to the dunes on the North Sea coast. Cycle along the coast of Lake Ijsselmeer, visit the small towns of Edam and Volendam and century canal ring.
TripTrist is a website that provides a search engine for adventure travel and tours around the world. Choose from over 2,000 tours by locally owned and run tour operators. Travelers simply enter the location they would like to go and/or the activity they are looking for and browse from a list of exciting tour choices. No need to visit dozens of websites to plan an adventure travel vacation, just use the TripTrist search engine.