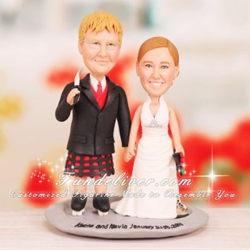 (PRWEB) March 01, 2014
Recently, FunDeliver.com, a renowned wedding cake topper manufacturer and retailer, has introduced its 2014 unique wedding cake topper collection. Compared with other similar products on the market, the wedding cake toppers from FunDeliver.com can help customers save a lot.
FunDeliver.com has been in the industry for many years, and it has much experience in the manufacture of wedding cake toppers. The company is also famous for its dedicated services. All the progress pictures will be sent to the customers throughout the process. The CEO of the company has promised that all customers be satisfied with the product design and quality.
The company has specially recommended their hunting wedding cake toppers for its customers, and showcased a bow hunting and roller skate theme Scottish wedding cake topper on its website. This is a completely customized cake topper ordered by one of its customers. People can find the main elements in the picture – roller skates, Scottish kilt, hunting bow, camouflage hunting boots, wedding dress, dish shape base and more.
Each ordered item is packaged in keepsake boxes before it is delivered. All the products from FunDeliver.com come with "arrival policy". That is to say, any customer can receive what she/he orders before the wedding, otherwise she/he will get a compensation from the company.
About FunDeliver.com
FunDeliver.com is an experienced manufacturer and retailer of funny wedding cake toppers, figurines and personalized gifts. All its products are 100% carefully handmade by skilled workers according to the customers' specific needs. The reason to choose FunDeliver.com is very simple: the company is always striving to make fun and unique items at affordable prices.
For more details about its interesting products, readers can visit: http://www.fundeliver.com/.