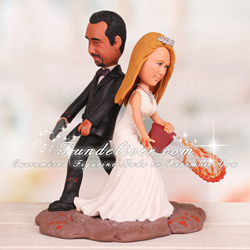 (PRWEB) March 02, 2014
Recently, zombie movies and television shows have been very popular, and UniqueWeddingCakeToppers.com, a well-known online store for special toppers, has prepared some special zombie wedding cake toppers for its fans worldwide.
The company has specially recommended a zombie wedding cake topper for its customers, and the model number is CC0307. This wedding cake topper's price starts at $308.00. This particular zombie cake topper is featured that a couple is defending the top tier from the brain-eating zombie hordes.
A senior designer says, "We can create a perfect horror-themed cake topper for you, no matter it is a gorier zombie cake topper or something a little subtler. What you need to do now is to send your photos to us, and communicate with our staff. Of course, you should read our customer guildlines online first."
Beth, a customer from the UK, said, "I was absolutely thrilled with the wedding cake topper that I ordered through this site. The shape was surprisingly good and the price was fantastic. The cake topper arrived way ahead of schedule and was packaged perfectly. Everything is in perfect condition. Thank you very much!"
UniqueWeddingCakeToppers.com aims to make all weddings memorable by offering high quality cake toppers. For newlyweds who are interested and hesitated at the same time, the company offers free 2d sketch designing. What they need to do is only sending it their love stories and wedding ideas.
About UniqueWeddingCakeToppers.com
UniqueWeddingCakeToppers.com is a famous online supplier of vivid cake toppers for weddings, birthday parties, going away parties and many other events. With an aim of making the events more interesting and memorable, the company often offers great savings on its special products. At its online store, customer satisfaction is among the top priorities.
More details about its funny items can be found at http://www.uniqueweddingcaketoppers.com/.