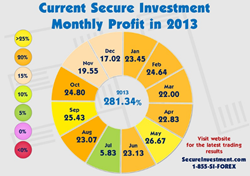 Forex Trading is now more accessible and more popular than ever, with many now dabbling in this form of trading
Hong Kong, China (PRWEB) March 01, 2014
Secureinvestments.com, a specialist managed investments company, has recently published an article that offers advice and information relating to the benefit of forex trading. In the article, the company highlights the fact that forex trading is now no longer the exclusive playground of millionaires and conglomerates as it is now accessible to most everyone.
With a daily turnover of roughly one to four trillion dollars, Forex is one of the largest markets in the world. If dealt with accordingly, investors can stand to make significant revenues if the proper risks are taken and their money properly managed. One of the best benefits of Forex trading is that it is within reach of the uninitiated. Regardless of lack of experiences, new investors have the option to test the waters with a virtual account they can work with without the risk of losing money.
The article explains that once the potential investor gets the hang of things, real money can then be put into play. Despite the risk of instability, what attracts investors to Forex trading is the amount of leverage they have in the market. What's important is that novice investors are made aware that Forex trading will not make them rich overnight as it is a business that needs to be nurtured and taken care of.
Another thing that the article covers is how investors can enter into this form of trading. This includes diving into it on their own or employing the services of someone who knows the market best. If the former route is chosen, success can be achieved with enough research and tracking the market and its patterns. If an investor chooses to go with the latter, they will have what is called a Managed Forex Account. Forex investment firms such as Secure Investment serve their clients by offering them a fully managed investment service.
An official from the company said: "Forex Trading is now more accessible and more popular than ever, with many now dabbling in this form of trading. Our company is able to provide assistance through the provision of a fully managed account."
About Secureinvestment.com
SecureInvestment.com has been providing custom investment services to its diverse range of clients from all over the world for over 5 years. The company has a team of highly skilled experts that all work towards helping their clients to achieve financial success.
Contact Information
Secureinvestment.com
One International Finance Centre,
1 Harbour View Street, Central,
Hong Kong
Phone Number: 1-855-743-6739