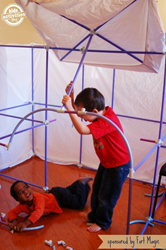 Magical forts that the kids can adapt and change in a whim are the best.
Dallas, Texas (PRWEB) March 04, 2014
Forts are magical to build, and explore. A totally awesome Fort Magic play kit and fun messy play ideas have been released on Kids Activities Blog. Magical forts that the kids can change and adapt at a whim are even better than regular play forts.
The pipe connectors are easy enough for even the youngest ones to participate in the assembly. The fort creation is a great way for kids of all ages to help develop the life long skills of hand and eye coordination and spatial awareness.
The Fort Magic kit is a massive set of tubes with various lengths and curves that can be assembled with connectors. The tubes are different colors to help kids differentiate between them as they are building. The connectors are sturdy and easy for kiddos to put together without much adult participation.
The kit comes with an ideas book. The book does not have step-by-step instructions, but it is easy enough for kids to emulate.
Everyone loves the chance to be a fun parent every once in a while. Fun messy play will excite kids of all ages. The kids will love making a mess without getting into trouble.
An oilcloth is a really great thing to have around specifically for messy play. One can get really creative with this and paint on it or play on it with shaving cream and water.
Other ideas include letting the kids drive their toys cars and trucks through paint and onto paper. This activity creates very cool looking art.
Moon dough is a fun medium to play with and explore new textures. It's fun to create and get messy with. Painting on a canvas by using old marbles or balls is another ingenious idea. Simply place paint and a canvas inside a box and roll the balls around to paint.
For detailed instructions and to get additional fun ideas, check out Kids Activities Blog this week. Come get inspired to have a blast together with the kids this week.
About Kids Activities Blog
Kids Activities Blog is a website created by two moms (who collectively have 9 children), Rachel Miller and Holly Homer from June Cleaver Nirvana. It is their daily goal to inspire parents and teachers to play with kids. This interactive website publishes simple things to do with kids twice a day. Kids Activities Blog is a great tool for moms and teachers to find kid-friendly activities that create memories and sneak learning into the fun.