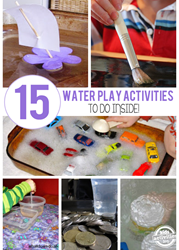 Freeze some toys in water and let the kids have a blast in the bathtub.
Dallas, Texas (PRWEB) March 02, 2014
Kids don't have to wait for summer to enjoy water play. Fun water play ideas and amazing cotton ball crafts have been released on Kids Activities Blog. Grab a few towels and get ready for the kids' eyes to light up when they are told to go and play with water this week.
The fun water play ideas include making a small sail boat out of toothpicks, foam, and paper and let the kids have a blast in the sink or bathtub. Other ideas include creating thin ice in a pan to replicate how the top of a lake freezes in winter. Let the kids have a blast breaking the ice.
Try ice fishing by freezing some small toys in a plastic container. When the ice is put in the bath, it will slowly melt and release the toys.
Cotton Balls make fun art. Among the many ideas are making an adorable snow owl out of cotton balls and pine cones. Other ideas include making 3-dimensional art by baking cotton balls with paint.
Thread cotton balls to create a fun snow wall or help your kids learn to hammer using cotton balls. Bake them in flour and add some paint for a fun burst of color.
For detailed instructions and to get additional fun ideas, check out Kids Activities Blog this week. Come get inspired to have a blast with the kids this spring.
About Kids Activities Blog
Kids Activities Blog is a website created by two moms (who collectively have 9 children), Rachel Miller and Holly Homer from June Cleaver Nirvana. It is their daily goal to inspire parents and teachers to play with kids. This interactive website publishes simple things to do with kids twice a day. Kids Activities Blog is a great tool for moms and teachers to find kid-friendly activities that create memories and sneak learning into the fun.