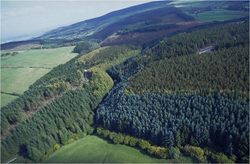 New Brunswick, Canada (PRWEB) March 02, 2014
As part of a broader delivery engagement, the solution will be a key element of Coillte's Forest Operations Planning System (FOPS)—a major, company-wide initiative focused on Coillte's commitment to their environmental and corporate sustainability initiatives.
Coillte, which manages and operates 7% of Ireland's land, has been leveraging Remsoft the past two years to drive optimal, long-range strategic planning. The FOPS project will now build on that work and focus more specifically on the three-year planning cycle.
In concert with Remsoft's Operational Planning Solution (SOP) which will be delivered in parallel with FOPS, Coillte is expecting to see major impacts in several key areas. These include: reduced harvest/haulage costs and overall margin improvement; reduced harvest unit production churn; increased certainty for permitting and road construction; and improved connection of harvest unit production to sales contracts. Overall, the project target is to move the right product to the best location at the correct time and at the best cost.
In the FOPS project, Remsoft's solution will be focused on the three-year timber production cycle. And when fully implemented, Remsoft will dynamically leverage data coming from relevant Coillte systems, from financial and GIS to forest planning and transactional activity.
"Coillte is demonstrating real thought leadership in the global forestry market with its FOPS initiative, and we are thrilled to help them achieve measurable gains in their value chain," says Andrea Feunekes, Remsoft Co-CEO.
A key part of the FOPS solution will involve the Business Area Units (BAU) at Coillte. Planners across the eight BAUs will work with Remsoft Analytics applications to review, edit and validate the three-year schedules for their areas. Additionally, operations, management and analysts will have the ability to review, explore and analyze the details of the schedules using Remsoft Analytics applications, thereby disseminating the plans across the organization. Information will flow back and forth, ensuring all planning is aligned, and decisions are being made in an informed, collaborative way.
Gerard Murphy, Managing Director at Coillte Forest adds "We look forward to Remsoft assisting us in delivering on our strategic imperatives in the context of the FOPS project implementation. Coillte regards Remsoft as a valued partner in this initiative, and we look forward to a successful implementation of the three-year production schedule and SOP solutions."
Remsoft expects to deliver the timber production solution in time for Coillte to use in its 2014 planning processes. The complete FOPS project is expected to be completed by 2015.
# # #
Media Contact:
Sandi MacKinnon
info(at)remsoft(dot)com
About Remsoft
Remsoft's optimization technology and services enable organizations to maximize the performance and value of their assets. Through advanced analytics, modeling and spatial planning technology, Remsoft simplifies complex planning and scheduling decisions to fuel long-term sustainability. Hundreds of organizations worldwide use Remsoft to manage their assets and increase their bottom line.
Please visit http://www.remsoft.com to learn more.
About Coillte
Coillte's core purpose is to enrich lives locally, nationally and globally through the innovative and sustainable management of natural resources.
Coillte is a commercial company operating in forestry, land based businesses, renewable energy and panel products.
The company employs approx 1,000 people and was established in 1988. It owns over 445,000 hectares of land, about 7% of the land cover of Ireland.