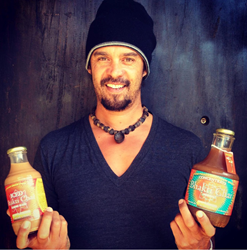 Boulder, CO (PRWEB) March 03, 2014
Bhakti Chai, alchemist of the freshly micro-brewed chai concentrate and ready-to-drink bottles (RTD), announced today they will join forces with Michael Franti, musician and supporter of peace and social justice, to kick off Natural Products Expo West with a free yoga concert at the Anaheim Convention Center, Calif., on Friday, March 7, 2014.
Sponsored by Bhakti Chai, the Rise n' Shine Yoga concert will be performed at the stage and pavilion outside the Convention Center from 7:30 to 9:00 a.m. Open to the public, the event will offer up to 100 participants the chance to practice yoga directed by inspirational instructor, Mary Beth LaRue, while listening to Franti's live music. The first 50 Expo West attendees to scan their badges at the event will receive a free Bhakti Chai yoga mat and bag, as well as samples for yoga participants and concert-goers.
Every year, Bhakti strives to share its delicious and unique products with Expo West attendees while also creating ways to engage, inspire and rejuvenate them. Michael Franti, known for his upbeat music and commitment to social justice, is the perfect entertainer to inspire attendees through music and movement.
"We're thrilled to be aligning with Bhakti Chai in Anaheim," says Franti. "I'm a huge fan of their products and of their social mission. Expo West is the perfect place to collaborate!"
"Starting the morning with a Michael Franti concert and Yoga with Mary Beth is the ideal recipe for our industry to celebrate all the success and momentum we've seen in the last year, while looking forward to other ways in which we can innovate and inspire," explains Bhakti founder and CEO Brook Eddy.
"I am impressed with Bhakti Chai's commitment to conscious practices and look forward to celebrating on our mats that we are all one," said LaRue.
In addition to the Rise n' Shine Yoga Concert, Bhakti Chai is introducing two new innovations: a finely curated packaged tea line and two new RTD flavors. "We wanted to bring the spice and fire to the packaged tea aisle so people could finally experience Bhakti Chai anywhere," shares Eddy. "The ginger pressed for the company's liquid products is dried and, still overflowing with potent flavor and aroma, re-purposed for tea pyramid bags."
Staying true to the company's quality commitment, both new products feature Califia Farms' popular almond milk. The new RTD Almond Blend contains the same sugar content as the Original RTD and for unsweetened chai lovers the Toasted Coconut Almond Blend contains no added sugar. These will be launching nationally in natural and conventional grocers beginning Spring 2014.
Bhakti Chai will be sampling the entire product line during Natural Products Expo West at booth 5135 in Hall E.
Editor's Note: Approved press may attend a VIP Yoga and Meet & Greet with Michael Franti. Contact Allison(at)bhaktichai(dot)com for more details.
###
About Bhakti Chai: An interest in social action and a passion for travel led Bhakti Chai Founder and CEO to India in 2002 to research a movement based on the principles of Bhakti, or devotion through social action. In 2006, Bhakti Chai was born with the vision of fusing sustainably sourced ingredients, artisan micro-brewed products, and the principles of triple bottom line business. Since its inception, Bhakti Chai has been committed to making charitable donations that support women and girls, follows sustainable business practices, and is a certified B Corporation. Bhakti Chai concentrates and ready-to-drink bottles are available at Whole Foods Markets, natural and independent markets, and cafés around the country. Dry tea tins are available in Whole Foods Markets in the Rocky Mountain region and online at shop.bhaktichai.com. For more information about products and the Rise & Shine Yoga concert, visit http://www.BhaktiChai.com. Bhakti Chai is on Facebook at: https://www.facebook.com/bhaktichaifans. Pinterest: http://www.pinterest.com/bhaktichai/. Twitter: https://twitter.com/BhaktiChai.
About Michael Franti: Michael Franti is the creator and lead singer of Michael Franti & Spearhead. For over two decades, the Bay Area born Franti has been bringing our world exceptionally powerful, deeply felt music. Franti first formed the punk band The Beatnigs while studying at the University of San Francisco, and later the far more hip hop-inflected The Disposable Heroes of Hiphoprisy. In the mid-nineties, Franti created Spearhead, and increasingly in recent years, he's found his own voice musically and his own organic brand of popular success. Franti's impressive series of recordings have vividly reflected his status as a musical citizen of the world. Bhakti Chai will be joining him in select cities during his yet-to-be released 2014 tour schedule. For more information, visit http://www.michaelfranti.com.
About Mary Beth LaRue: Mary Beth LaRue has been teaching yoga for eight years and was named one of the top yoga instructors in Los Angeles by Rate Your Burn. Her classes and retreats have been featured in the Huffington Post, National Geographic Traveler, LA Yoga and Origin Magazine. Mary Beth, co-founder of Rock Your Bliss, leads worldwide retreats, workshops and trainings that inspire and empower others to live the life of their dreams. LaRue travels the world working with professional athletes creating sustainable, rehabilitative yoga programs in addition to developing classes held at the Down Syndrome Association of Los Angeles for teenagers, newborns, and their family members. For more information, visit http://mblarue.com/.