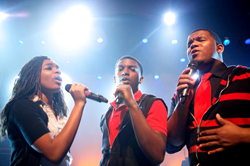 Kansas City, Missouri (PRWEB) March 01, 2014
Award-winning book Higher Than Me: The Story of Voices of Glory will be pitched by the Prestigious Boston University Film & Screen School on March 20, 2014. The book adaptation for film will be pitched to Gerard Cole, Voices of Glory Manager. The film adaptation will focus on the personal account of Michael & Felicia Cole and their three children, who have made music their life and legacy.
Praised as "an excellent book about a family who trusts God" by Pneuma Magazine, Claudia Stewart Farrell's heartrending story follows the remarkable story of Michael and Felicia Cole's love story shared through the lives of their children as they embark on an unbelievable odyssey from singing in their mother's hospital room to their place as a Top Five Finalist on America's Got Talent.
"I am excited to be part of such an amazing family. I was flabbergasted by the email to have our book selected as 'the' book to film adaptation. It's really amazing. I look forward to seeing how the story can be brought to life for film." - Gerard Cole, manager-Voices of Gory
The book was recommended to the Boston University Film & Screen Writing Graduate Program and was selected among several other works.
"It makes perfect sense this amazing story should be made into a movie so that it can bless millions." - Surrina Greene, Purpose Publishing
For more information about Higher Than Me and to view the book, visit http://www.thevoicesofglory.com. Voices of Glory begins the 2014 show season of AYO at the Hughes Brothers Theatres in Branson, Mo. For Ayo Voices of Glory tickets, go online to http://www.bransonticket.com or call 1-800-432-4202.