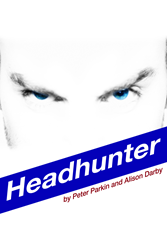 'You will need to put your seat belt on as soon as you start reading this book!' - David B., Calgary, AB
Calgary, Alberta (PRWEB) March 03, 2014
Continuing with the theme of Peter Parkin's three previous thrillers, 'Headhunter' is an original story with vividly original characters.
"I haven't written a sequel yet," says Parkin. "I've resisted doing that, even though the temptation is always strong. It's tempting to stay with familiar characters and story lines, particularly when readers seem to love them so much. But, for me, as an author, the thrill is creating something brand new each time."
Parkin, a Canadian, collaborated with a co-author, the U.K.'s Alison Darby, for his last two novels.
"Peter's first two novels stunned readers with their surprise endings," says Ms. Darby. "But sly little clues were laced throughout the books, which, in hindsight, forced readers to admit that they should have seen the endings coming. Nevertheless, they were delighted to be surprised.
"We've created the same effect with our latest two novels: 'Skeleton,' and now 'Headhunter.' For Peter and I, thrills and chills along with surprise endings have become a 'signature' that we're very proud of, and it's gratifying to know that our readers love what we do."
Peter Parkin's novels are available worldwide on Amazon Kindle and Kobo. Information about Mr. Parkin and all of his novels can be obtained by visiting his website: http://www.PeterParkin.com.