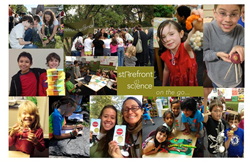 "Science and play go hand-in-hand at our camps, children learn complex scientific ideas through play and inquiry. They don't even realize how much they are actually learning!" - Dr. Ardizzone
New York, New York (PRWEB) March 03, 2014
StoSci On The Go, as founder Dr. Leonisa Ardizzone calls her updated science program, engages children through inquiry and exploration. Utilizing wonder, discovery and the process of science, children are encouraged to "explore outside your door" with concepts that promote questioning, gathering information, co-operation and critical thinking.
As a single parent, Dr. Ardizzone has created a summer camp schedule with families in mind. Science lovers can choose either full day (9-4) or half day options (9-12 or 1-4), a single week or multiple weeks, and a variety of integrated science, technology, engineering and math themes.
Summer 2014 topics include: Building Big - and wide and tall and stable!; Hey Old Bones - Let's Talk Paleontology!; Playground Physics - or how do those things work?!; Tinker Time - where science, art and creativity hang out!; Let's Get Physical - How does your body work?; Urban Naturalist - the wonders of New York City!; Too Small to See - and too big to ignore!; and Go Fly a Kite - and other uplifting pursuits.
A big question for parents is how StoSci On the Go Science Camps serve such a broad range of children. Dr. A, with more than 20 years of education experience creates each camp curriculum to include developmentally appropriate content and activities. Each day, children take part in small and large group instruction, single age and mixed age learning opportunities, and plenty of field-based explorations. The accent is on play. "Science and play go hand-in-hand at our camps, children learn complex scientific ideas through play and inquiry. They don't even realize how much they are actually learning!" says Dr. A.
Storefront Science Summer Camps run from July 7th until August 29th and are held at 265 West 79th Street. Experiments and explorations will take place in Riverside Park and Central Park, as well local museums, landmarks and the streets of the Upper West Side. Snacks are provided, but campers need to bring lunch. Full descriptions and registration details can be found at http://www.storefrontscience.com.