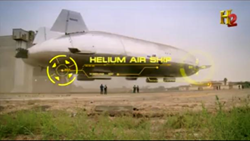 Los Angeles, CA (PRWEB) March 02, 2014
Aeroscraft Corporation (Aeros) is pleased to announce that the Aeroscraft will be featured in the series premiere for "Rise of the Machines" Tuesday, March 4, 2014 from 10:00-11:00 PM/ET. (check local listings) The episode 'Super Airship' reveals the technology behind the innovative Aeroscraft cargo airship, and follows the technology demonstration prototype during final preparations for its exciting maiden flight.
Viewers can watch a sneak peek of the new series, which features the Aeroscraft (https://www.facebook.com/photo.php?v=474526312653216)
About "Rise of the Machines - Super Airship" (episodic synopsis) CGI animation explodes open a revolutionary new breed of airship – the Aeros Dragon Dream –to reveal the extraordinary technology that it depends on during a series of grueling tests. Exploring the engineering breakthroughs within this helium-filled behemoth will reveal surprising secrets of how the technology evolved, inspired by extraordinary lessons from nature and history. How did the airship's unique buoyancy control system evolve from the swim bladder of deep-water fish? Which breakthrough in rocket engineering enables Corky to spin the airship on a dime? How did the Eiffel Tower inspire the extremely strong yet lightweight airship frame? If the test flight is successful, it will demonstrate how Dragon Dream's radical new design works and will open a new chapter in aviation history. Failure will consign the Dragon Dream to the scrapheap.
H2 will repeat the premiere broadcast multiple times throughout the week:
Tuesday (3/04) at 10:00 PM/ET
Wednesday (3/05) at 2:00 AM/ET
Wednesday (3/05) at 11:00 PM/ET
Thursday (3/06) at 3:00 AM/ET
Saturday (3/08) at 11:00 PM/ET
Visit http://www.history.com/schedule for additional programming information and network broadcasts.
About Rise of the Machines: The newest, most technologically advanced series from H2™, "Rise of the Machines," reveals how the inventions behind the world's most extreme machines have enabled them to evolve beyond humanity's wildest imagination. This visually stunning series uses mind-blowing CGI animations to reveal the extraordinary engineering at the heart of the world's most extreme machines. From the world's biggest mega truck to the world's fastest train to a revolutionary heavy lift ship, ground breaking CGI animation explodes the machines apart to reveal the ingenious inventions hidden under their skin that enables the teams who drive, fly and sail them to be at the top of their game. This series takes us inside these machines in close up detail and explores what helps these elite ships, trucks, trains and aircrafts rise above all others.
On H2™, information is entertainment, experienced in unexpected and exciting ways. H2 is a leading destination for award-winning original series and specials that connect viewers with history in an informative, immersive and entertaining manner. H2 offers a deeper perspective on history from all around the globe. It's more to explore, more to know, more to understand, More 2 HISTORY™. H2 is part of A+E Networks, which includes A&E, Lifetime, LMN, and History Channel, among others.
About the Aeroscraft: An Aeroscraft is a new type of Rigid Variable Buoyancy Air Vehicle, designed to control lift in all stages of air or ground operations, including the ability to off-load heavy payloads without the need to re-ballast. For the first time in history, an aircraft has been designed to control and adjust buoyant and dynamic lift, creating a new paradigm for global air transportation and logistics. Poised to enhance the air transportation industry, the Aeroscraft will deliver opportunities for business and consumers globally through access to remote locations and by new VTOL cargo delivery capabilities. The key features of the Aeroscraft include a rigid structure, vertical takeoff and landing, and operational abilities at low speed, in hover, and from unprepared surfaces.
About Aeros: Founded 27 years ago in the U.S., the Aeroscraft Corporation (Aeros) has grown from a small aerostat production manufacturer to a leading FAA-certified airship producer and R&D firm for the aerospace industry. Aeros has achieved multiple FAA airship type certificates and operates with an FAA Production Certificate, while featuring a product line that includes advanced airships and tethered aerostats utilized in commercial and government applications throughout the world. Learn more at http://www.aeroscraft.com.
# # #
Aeros has recently announced a private offering for investors to support aeroscraft fleet development capital requirements. This can offer investors a rewarding opportunity to participate in the aeroscraft's development and growth. execution of this plan is not without risk, and the offering can only be made to accredited investors at this time. For more info about aeros' private offering, please visit http://www.aeroscraft.com/investors