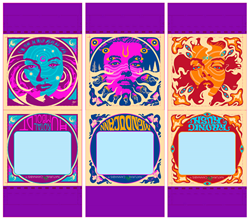 I'm delighted to see so many compelling designs coming from all corners of the world.
Santa Rosa, CA (PRWEB) March 02, 2014
With one week remaining before the entry deadline for OrganiCann's first annual High Art challenge, artists from all over the globe have submitted entries in hopes of garnering the $5,000 top prize and the one-year product feature on three OrganiCann product lines.
Entries from North America, Europe, Australia, and South America demonstrate the broad appeal for the competition and underscore the international cannabis movement.
"The First Annual High Art challenge endeavors to connect cannabis with a global art community. At a time when cannabis is emerging as the next major international industry, we are delighted to see the international art community embrace the challenge as an underpinning to the exciting worldwide movement," said Dona Frank, founder of OrganiCann and Natural Cannabis Company.
Artists Weigh in On High Art
In addition to the entries, several artists have shared their design narratives, providing a colorful context to the entries received.
Theme: Seal of High Quality
"Displaying highlights of each respective strain in pictographs, i.e. Royal Humboldt - Heartland of "Trees" hence hearts and trees, and image underlay of tree bark representing the dense forests of Humboldt County; Kronic Kush using icons displaying themes of Silk Road Trade (camels, henna stencil), an underlay of the mountains of Nepal; Mendocann's seal is made up of icons of local craft brews, winery, as well as rail road tracks, representing the skunk train, it shares the same image underlay as Royal Humboldt, representing the lush greenery of Mendocino County." - Bianca Fuchs (Los Angeles, CA)
Artists have until March 9th at 4:20 p.m. to submit their designs. Following the entry deadline, a one-week public vote, hosted by Juxtapoz Magazine, will narrow the field to the final five designs. A judging panel that includes Oakland based artist Skinner will determine the final winners. A design gallery featuring current entries is located at http://www.juxtapoz.com/current/update-organicann-presents-high-art.
"I was initially drawn to High Art as lightning rod for global diversity in art and design and I'm delighted to see so many compelling designs coming from all corners of the world. It's important that the legalization of cannabis worldwide continues so people worldwide can gain access to the countless cannabis medicinal benefits, and High Art is the perfect torchbearer," said Skinner.
About High Art:
High Art is a first ever art design competition to develop product packaging for three different cannabis product lines. Hosted by Juxtapoz Magazine, the pioneering annual art competition will engage artists from all over the globe, and the winning designs will become the package brand for three OrganiCann product lines; "Mendocann, Royal Humboldt, and Kronic Kush."
The challenge winner will receive a $5,000 cash prize and the winning art will be featured on the three product packages for a one-year period. A second and third place winner will receive a cash prize of $2500 and $1000 cash prize, respectively.
About The Natural Cannabis Company: 
The Natural Cannabis Company's goal is to bring the highest quality cannabis to their clients. Follow OrganiCann on Facebook and Twitter. Also, feel free to email any questions or comments.
# # #