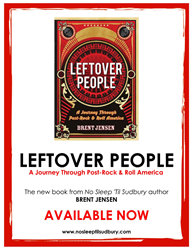 A modern-day version of Fear and Loathing in Las Vegas - only cooler.
Toronto, ON (PRWEB) March 19, 2014
Jensen's latest non-fiction work Leftover People recounts in graphic detail the surreal events that take place during a promotional book tour of the southeastern United States in support of his rock and roll memoir No Sleep 'Til Sudbury. As Jensen comes into personal contact with a colorful assortment of intensely dedicated 80s hard rock and metal fans that represent his readership over the course of the tour, he is forced to consider the deeper implications of his own fandom for the music of his youth through that of his readers. Leftover People balances tales of the tour's hazy escapades from city to city against a darker subtext illuminating the eternal struggle between the head and the heart, and of living in the moment versus living in the past.
What reviewers are saying about Leftover People:
"Somewhere between Kerouac and Faster Pussycat, Canadian Brent Jensen takes us on the road through a string of dive bars, cheap motels and Southern record shops while promoting his memoir No Sleep 'Til Sudbury. A Canadian touring the American South in a minivan with a former Poison roadie, trying to sell a memoir about growing up in Canada loving rock & roll. That's crazy insane right there - but the end result is hopeful and insightful and Jensen is a fine enough writer to pull it off. It's sort of magic, really. You have to read it to see." - J.M. Blaine, The Weeklings music editor and author of Midnight, Jesus & Me
"Through his latest book Leftover People, author Brent Jensen has provided us with a modern-day version of Fear and Loathing in Las Vegas - only cooler." - Christopher Long, author of A Shot of Poison and Shout It Out Loud
"Brent Jensen's Leftover People employs all of the musical elements of his previous work No Sleep 'Til Sudbury and many more, but now his main focus is on the interplay between himself and the unique and bizarre characters he experiences during his journey. A Canadian like Jensen let loose in the American Deep South can only mean one thing – hilarity. If you like Klosterman, you'll love Jensen. Leftover People is definitely a ride worth taking." - Ian O'Malley, on-air personality Q104.3 FM New York City
Brent Jensen is a music writer who lives in the Toronto area. He maintains Facebook and Twitter pages to network with his friends and readers, and more information on Jensen can be found on his Amazon.com author page.
Leftover People: A Journey Through Post-Rock & Roll America is currently available in bookstores and on Amazon in paperback and Kindle formats.
To arrange an interview or book signing appearance, send an email to nosleeptilsudbury(at)yahoo(dot)ca.