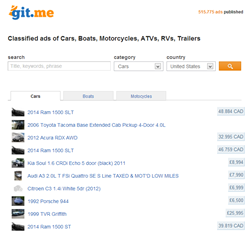 New York, NY (PRWEB) March 07, 2014
Classified ads search engine git.me is excited to announce that classified website owners can now advertise their listings through git.me's new API service. git.me lists ads for vehicles, including cars, boats, bikes, trailers, RVs, and ATVs. This convenient service is currently available for interested buyers and sellers in the US, Canada, and the UK, and has over 250,000 ads users can search through.
git.me works by using advanced technology to scan several thousand websites daily for applicable listings. Once a match is found, the site aggregates the listing onto its own site. Users can search for vehicles based on type of vehicle, location of vehicle, and keywords (i.e. make, model, year, color, etc.). Once a buyer has found the vehicle they are interested in, they only need to click the "Contact Seller" button to be directed to the site that is selling the vehicle.
Now, interested users are afforded the opportunity to list their vehicles directly onto git.me through the API service. This service allows users to bypass the waiting game that may occur if they were to post their vehicle on other sites. The hope with this new opportunity is that advertisers will receive responses from interested buyers faster than if they were hosting the vehicle on another third-party site.
Buyers and sellers can view vehicles for sale at git.me. Android users can also download the git.me app from the Google Play store for free.
About git.me
git.me is a classified ads search engine designed to make the process of finding a classified ads on the Internet easier for the user. It collects a huge selection of advertisement inventories available on the Internet into a single extensive database, the source information originating from various classified of ads websites. Using a fast and straightforward interface, users can query this database and save themselves the trouble of visiting each site individually. The classified of ads themselves are not hosted by git.me and users are always redirected to the original ad listing's website. Essentially, git.me acts as a traffic driver to those partner sites. git.me's training search engine network spans over dozens of countries, using dedicated interfaces translated into all respective languages.