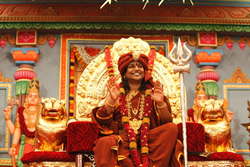 Bring right understanding about you to you.The right introduction I can give for you to you: SHIVOHAM! Means, "I am Shiva!"
Nithyananda Dhyanapeetam, Bidadi India (PRWEB) March 05, 2014
On 27 February 2014, the auspicious occasion of Mahashivaratri was celebrated with great fervor and devotion at Nithyananda Dhyanapeeta, Bidadi, by thousands of people. The day and night-long celebrations was packed with events like sannyas initiation for seekers from across the globe including a one of its kind initiation over 2 way video conferencing, rudrabhishekam to the 21 feet Ananda linga by Paramahamsa Nithyananda accompanied by rudrabhisekam to the 1008 Shiva lingas around it, a grand rathotsavam (chariot procession of the deities of Nithyanandeshwara-Nithyanandeshwari and Nithyananda) , as well as the satsang (discourse) and Kundalini dhyan initiation by Paramahamsa Nithyananda, a grand abhishekam to the ancient swayambhu linga, bhajans, and culminated in individual blessings and darshan of Paramahamsa Nithyananda for one and all.
Mahashivaratri was also celebrated grandly at all the centers and ashrams of Nithyananda Dhyanapeetam worldwide.
The grand celebrations were telecast on the Kannada channel Janasri News TV, national channel Sadhana TV and Tamil channel Lotus News TV, as well as web television Nithyananda TV.
ABOUT HIS HOLINESS PARAMAHAMSA NITHYANANDA:
His Holiness Paramahamsa Nithyananda, recognized today as a clear, legitimate, apolitical voice of integrated Sanatana Hindu Dharma, is revered as a living incarnation of superconsciousness by millions worldwide.
He is a Maha Mandaleshwar (spiritual head) of Mahanirvani Peeth, the most ancient apex body of Hinduism, and the 293rd pontiff of Madurai Aadheenam, the oldest Hindu establishment. He is the most watched spiritual teacher on YouTube with over 16 million views, and the author of more than 200 books published in over 20 languages. His talks are watched live every day on http://www.Nithyananda.TV, as well as on multiple international television channels and via video conferencing.
Paramahamsa Nithyananda is also a powerful spiritual healer and adept who has successfully demystified yogic sciences like kundalini awakening, levitation, materialization, and going beyond food.
Paramahamsa Nithyananda is a powerful advocate of human rights, especially the right to religious freedom. He envisions a global civilization built on the ancient Vedic principles of religious harmony and personal freedom.