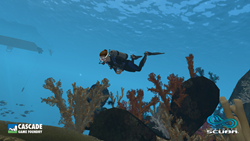 "Scuba diving is a meditative, Zen-like experience, so Infinite Scuba is an unconventional video game." Kathie Flood, Cascade Game Foundry, Managing Director
Redmond, WA (PRWEB) March 03, 2014
Cascade Game Foundry (CGF™) announces that Infinite Scuba is a finalist in the prestigious Game Connection America Selected Projects 2014 competition in the "Social, Casual & Online" category. Winners will be announced March 17th during Game Connection's Selected Projects Award Ceremony at the Sir Frances Drake Hotel in San Francisco.
There are a total of 15 nominated projects for the 2014 awards from fierce competition that included over 200 submitted projects. Nominees will present their projects to all publishers, distributors and buyers at the Game Connection America show. A jury comprised of leading publishers will select a winning project in each of three categories along with an "Overall Best Project" winner, with selection criteria based on presentation quality, project innovation and market potential.
Infinite Scuba gives players ages 8 and up the thrills, mysteries and beauty of the Earth's oceans. Players do what real divers do - explore dive sites, identify wildlife, take photos, and find artifacts - while learning about history and dive science.
"We are honored to be nominated in this esteemed competition," says Kathie Flood, Managing Director and co-founder of Cascade Game Foundry. "Scuba diving is a meditative, Zen-like experience, so Infinite Scuba is an unconventional video game. We are delighted to show everyone at Game Connection how it enables players to experience the quiet beauty of exploring the ocean from home." Adds Flood, "This game is Indiana-Jones-meets-Jacques Cousteau: wildly fun, mysterious, and enlightening."
Cascade Game Foundry works closely with Dr. Sylvia Earle (National Geographic Explorer-in-Residence & Time Magazine Hero for the Planet) and Mission Blue, Dr. Earle's ocean advocacy organization, to ensure that the game is environmentally respectful and helps to raise awareness of the importance of ocean health.
To further provide an authentic diving experience, CGF partners with PADI (Professional Association of Diving Instructors) and more than 20 manufacturers to recreate their brands and equipment in the game. Brands include SCUBAPRO®, Body Glove, BARE, Oceanic, Cressi, SeaLife, Underwater Kinetics, Henderson, SUBGEAR®, and XS Scuba.
A demo version of Infinite Scuba is part of the Sea Monsters Revealed: Aquatic Bodies exhibit, currently showing at the Georgia Aquarium in Atlanta. Sea Monsters was created by BASE Entertainment, the creators of the well-known Bodies exhibit.
Game Connection America 2014 takes place from March 17-19 at the Sir Francis Drake Hotel in San Francisco. The Selected Projects conference will take place on March 17th from 10:00 a.m. to 12:00 p.m.
For more information on the Game Connection America 2014 Selected Projects, http://www.game-connection.com/gameconn/content/game-connection-america-2014s-selected-projects-nominees-revealed
Infinite Scuba is available now for Windows and Mac download at https://www.infinitescuba.com
About Cascade Game Foundry
Cascade Game Foundry, Corp. (CGF) is a Seattle-based video-game company composed of entertainment simulation experts from the former Aces Studio at Microsoft, one of the most critically acclaimed and most profitable studios in the history of the video-game industry. The team's unrivaled expertise and passion for simulations and entertainment software enables them to provide breathtakingly accurate simulations for hardcore audiences, as well as compelling exploration game play for casual audiences.
Cascade Game Foundry builds products that enable people of all ages and ability levels to explore the world from home For more information about Cascade Game Foundry, please visit http://www.cascadegamefoundry.com.
Infinite Scuba® is a registered trademark or service mark of Cascade Game Foundry, Corp. All Rights Reserved.