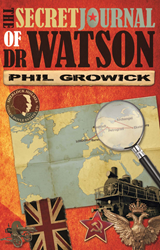 There has never been a better time to be a Sherlock Holmes fan with more franchises running concurrently than any time in history.
(PRWEB) March 04, 2014
With the most successful Russian Sherlock Holmes TV series in decades on TV, the Russian public's appetite for Sherlock Holmes stories is at an all-time high. Russian publishers Amphora have released a bestselling new collection of Sherlock Holmes books including a large deal for a dozen books with the world's largest Sherlock Holmes specialists, MX Publishing, in London. The deal includes several short story collections and novels and builds on the Russian release last year of two of MX's bestsellers. Particularly popular in Russian was "The Secret Journal of Dr.Watson" by US author Phil Growick as the storyline features Holmes and Watson heading to Russia. It also has the distinction of carrying the coveted Conan Doyle Estate seal – which is very popular with foreign fans looking for authentic storylines.
Hardback book sales in Europe and the USA may be dwindling, but they are as strong as ever in Russia. With online book sales still in their infancy, bookstores and kiosks still the main channels for books, and e-readers still to take off Russia is still a very strong market for traditional books.
MX's Steve Emecz says they aim to expand into many other similar countries, "There has never been a better time to be a Sherlock Holmes fan. With more franchises running concurrently then any time in history – BBC Sherlock, CBS Elementary, the Guy Ritchie movies and now the Russian Series there are millions of new fans joining Sherlockian societies all over the world."
In the last five years MX has launched over 150 new Holmes books – from new traditional fiction, to travel guides, biographies. "Today's Sherlock Holmes fans have a huge appetite for new adaptations. The most popular though remains traditional fiction in the style of Sir Arthur Conan Doyle."
The twelve book deal then includes mostly traditional fiction from writers in the UK and USA. Both volumes of David Marcum's "The Papers of Sherlock Holmes" were included which is not a surprise as critics have described Marcum as the modern writer with a style closest to Conan Doyle. Also in the collection are four books from author David Ruffle whose Holmes thrillers are set in his home town of Lyme Regis. Before Ruffle's novels few Holmes fans had heard of the Dorset coastal town, but now it's firmly on the Sherlockian map.
Emecz explains that the Eastern countries have the perfect conditions for a Sherlock Holmes publisher. "Social media is huge with Sherlock Holmes followers so we're able to reach out to the fans through Facebook, Tumblr and Pinterest – yet the challenging decline of bookstores and physical books hasn't hit the East – yet."
In 2013, Emecz appeared alongside the ladies from the fan site Sherlockology in a Russian TV news story about the campaign to save Conan Doyle's former home, Undershaw in Hindhead. The four minute feature was watched by an estimated 100 million people. The book "Sherlock's Home – The Empty House" raising awareness for "Save Undershaw" was the first MX Publishing book to be translated into Russian by Amphora and received special permission from the BBC to feature Benedict Cumberbatch on the cover alongside Jeremy Brett and other great Holmes actors. Fans wanting to support the campaign can join in on the Save Undershaw Facebook page.
You can see copies of some of the Russian editions in the special lending library at the Park Plaza Sherlock Holmes Hotel – on Baker Street in London.
Emecz will be visiting the London Book Fair on 9th April to meet with more foreign publishers.