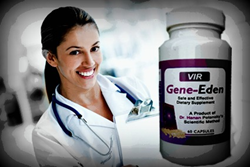 We believe that people concerned about a herpes infection should speak with their doctors about Gene-Eden-VIR. This natural antiviral was proven to reduce HSV symptoms in a recent post-marketing clinical study. – Mike Evans, polyDNA
Rochester, NY (PRWEB) March 07, 2014
Many people are afraid of getting genital herpes (HSV-2). However, many don't know how the virus is spread. In polyDNA's survey for the month of February, 2014 it was found that up to 64% of respondents did not know how the herpes virus is transferred from one person to another. "The problem with herpes is that some infected people do not realize that they harbor the virus and can transmit it to others through sexual intercourse or oral sex." (See The New York Times, from August 12, 1992) (1). polyDNA therefore suggests that individuals talk to their doctors about Gene-Eden-VIR, which helps the immune system target the latent herpes (the form of virus that can cause a person to believe he/she is not infected). Gene-Eden-VIR was proven to reduce Herpes symptoms in a post-marketing clinical study that followed FDA guidelines.
The herpes virus "thrives on ignorance and secrecy because those who are infected are understandably reluctant to discuss genital herpes with anyone and because physicians are often ill informed about the problem and insensitive to the despair that can accompany it (1)."
"Experts say the emotional and physical toll of herpes can be dramatically reduced by information, emotional support, medication and precautionary health practices (1)." polyDNA agrees.
The public needs to know that "You can get herpes by having oral, vaginal, or anal sex with someone who has the disease. Fluids found in a herpes sore carry the virus, and contact with those fluids can cause infection. You can also get herpes from an infected sex partner who does not have a visible sore or who may not know he or she is infected because the virus can be released through your skin and spread the infection to your sex partner(s)." (See the CDC's website, last updated January 23, 2014) (2).
When a person becomes infected, it doesn't take long for symptoms to develop. "The first attack, usually within 10 days of exposure, is often accompanied by local swelling and flu-like symptoms, including fever, headache, muscle aches and fatigue (1)." In addition, "symptoms of an initial infection can include: fever and flu-like symptoms, genital itching, burning, or discomfort, vaginal discharge in women, swollen lymph nodes, and a feeling of pressure in the abdomen. These early symptoms can appear before any skin lesions develop. Skin lesions then develop within a few days of the initial symptoms and are characterized by raised, red, painful bumps or blisters at the site of viral infection (often on the penis or vagina). The lesions can also appear on the uterine cervix in women or in the urinary tract in men. (See Medicinenet.com, last reviewed April 1, 2010) (3).
"I honestly had no clue how herpes was spread. I mean, they teach some of that stuff in school and all, but for some reason I guess it didn't sink in." – Maggie J., survey respondent.
"We believe that people concerned about a herpes infection should speak with their doctors about Gene-Eden-VIR. This natural antiviral was proven to reduce HSV symptoms in a recent post-marketing clinical study." – Mike Evans, polyDNA
In a post marketing clinical study published on August 12, 2013 in the medical journal Pharmacology & Pharmacy in a special edition on Advances in Antiviral Drugs, researchers showed that Gene-Eden-VIR is safe and effective (4). Additionally, up to 70% of those studied reported a decrease in viral symptoms, and users experienced an increase in overall health (4).
Each ingredient of Gene-Eden-VIR was chosen through a scientific approach. Scientists scanned thousands of scientific and medical papers published in various medical and scientific journals around the world to identify the safest, most effective natural ingredients that target the latent HSV-2. (4)
To learn more about Gene-Eden-VIR and herpes, visit: http://gene-eden-kill-virus.com/Herpes-Remedy.php. All orders of Gene-Eden-VIR are completely confidential, and no information is shared or sold to any third party. Privacy is assured.
Reference:
(1) Personal Health; Genital herpes thrives on ignorance and secrecy. Published on August 12, 1992
http://www.nytimes.com/1992/08/12/health/personal-health-genital-herpes-thrives-on-ignorance-and-secrecy.html
(2) CDC - Genital Herpes - CDC Fact Sheet. Last reviewed January 23, 2014.
http://www.cdc.gov/STD/Herpes/STDFact-Herpes.htm
(3) MedicineNet.com - Genital Herpes Symptoms. Last reviewed April 1, 2010.
http://www.medicinenet.com/genital_herpes_symptoms/views.htm
(4) Gene-Eden-VIR Is Antiviral: Results of a Post Marketing Clinical Study. Published on August 12, 2013.
http://gene-eden-kill-virus.com/PP_Gene-Eden-VIR-is-Antiviral.pdf
polyDNA is a biotechnology company that develops dietary supplements using the unique scientific method developed by Dr. Hanan Polansky, which is based on Computer Intuition.
In addition to his unique scientific method, Dr. Polansky published the highly acclaimed scientific discovery, called Microcompetition with Foreign DNA. The discovery explains how foreign DNA fragments, and specifically, DNA of latent viruses, cause most major diseases.
polyDNA developed Gene-Eden-VIR , an antiviral natural remedy that helps the immune system kill latent viruses.