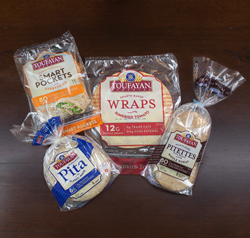 Ridgefield, NJ (PRWEB) March 02, 2014
Toufayan Bakeries (http://www.toufayan.com) will make its Hollywood debut this weekend. Celebrities and high-profile media will be trying Toufayan's Whole Wheat and Gluten Free Wraps within custom gift bags at the Secret Room Events Red Carpet Style Lounge in honor of the 86th Academy Awards. This exclusive gift lounge experience showcases some of the latest and greatest in terms of apparel, electronics and edibles.
"Our wraps are certainly ready for the red carpet," said Karen Toufayan VP of Sales and Marketing at Toufayan Bakeries. "We are thrilled that Toufayan Whole Wheat and Gluten Free wraps have been selected for inclusion in these coveted celebrity gift bags. While our new packaging may make us the best dressed, we are most proud of the substantive accolades we receive daily from customers expressing gratitude for the delicious taste and high quality of our products. What a fun way to celebrate how far we've come while helping some of the most talented stars celebrate their achievements."
Within the Secret Room Events Red Carpet Style Lounge, Academy Award nominees enjoy selected products and services. Wolfgang Puck will co-host with Amenity Services, providing a fabulous food and beverage lounge with onsite spa services. This year's event will benefit the spcaLA (Society for the Prevention of Cruelty to Animals Los Angeles) and will be onsite to bring awareness and accept donations.
About Toufayan
Since 1926, families have been relyin' on the fresh taste of Toufayan. Toufayan is one of the largest privately held specialty bread bakeries in the US. Making the best bread has always been a passion for the Toufayan family. For almost 90 years, the Toufayans have been filling lunch boxes, toasters, and tummies with fresh lines of pitas, flatbreads, bagels, wraps, lavash, and breadsticks. Based in Ridgefield, N.J. with bakeries in Orlando and Plant City, Florida, the third generation of Toufayans oversees the entire process from ingredient sourcing and production to distribution. While trends come and go, high quality, fresh and authentic products are always in demand. The Toufayan family is committed to quality you can taste. Find Toufayan at http://www.toufayan.com and http://www.facebook.com/toufayan.
About Secret Room Events:
Secret Room Events produces award winning gift lounges and gift bags surrounding major award shows and private entertainment and celebrity related events. Voted by Huffington Post as best gift suite. Contact Amy Boatwright at amy(at)secretroomevents(dot)com or secretroomevents(at)yahoo(dot)com for more info.
SRE International Inc.is not affiliated with the Academy of Motion Picture Arts and Sciences or the Academy Awards.
Secret Room Events and Toufayan Bakeries are not affiliated with the Academy of Motion Pictures Arts and Sciences or the official Academy Awards.