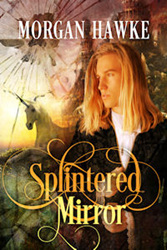 This is NOT your typical happily ever after.
Haymarket, VA (PRWEB) March 04, 2014
Mojocastle Press, LLC, a publisher of high quality romance, erotic romance and erotica books (i.e. smut books) is pleased to announce the release of Splintered Mirror by the Mistress of Erotica herself, Morgan Hawke. Splintered Mirror combines elements of fantasy and the paranormal along with Morgan Hawke's traditional eye-ball melting erotic writing. This story of fairy-tale princes, fantastic creatures and monsters, and evil sorcerers is guaranteed to set your heart racing. Ms. Hawke states, "This is NOT your typical happily ever after." Splintered Mirror is available exclusively at Mojocastle Press ). A second standalone book tentatively titled Mount is currently in production and is scheduled for an early spring 2014 release.
About the Author:
Morgan Hawke is a prolific writer of adult fiction including erotic romance and erotica. Her publishing credits include over thirty books and short stories. Morgan Hawke has lived in seven states, and spent two years in England. She has been an auto mechanic, a security guard, a waitress, a groom in a horse-stable, in the military, a magazine editor, a professional belly dancer, the copywriter and publicist for an internet porn corporation, a gypsy for a Renaissance festival, and a stripper. She proudly states "I write damned good smut. I like writing damned good smut."
About the Company:
Mojocastle Press is a full service, royalty paying eBook Publisher, which includes editing, proofreading, cover art, ISBN and digital and print publishing. We hold ourselves to the highest possible standard of contract fairness and an agreement detailing the rights and responsibilities of both parties is signed for each accepted manuscript.
Finest in Romance, Erotic Romance and Erotica…Books for the Discriminating Adult
Social Media Links: