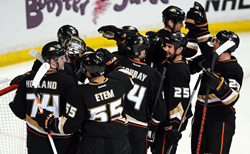 Denver, Colorado (PRWEB) March 03, 2014
The Winter Olympics are now history and hockey fever is heating up back here at home. These were the fifth Winter Games in which the league crammed games in before and after a multi-week shutdown to permit selected players, who risk injury, to go for gold.
Some 150 NHL players were chosen to play for their respective national teams and have returned to their squads from Sochi. Now, with fewer than 25 games remaining in the 82-game regular season, fans are gearing up for the NHL's grueling home stretch.
In both the Eastern and Western Conferences, less than five points separate the league's top teams as they duke it out for home ice advantage. A precious eight playoff spots are available in each half of the league, and every game will come down to the wire in the next month and a half.
"The Olympics seem to have taken puck mania to an all new level," said Marta Ault at online ticket marketplace BuyAnySeat.com. "We are seeing ticket sales spike across the board for NHL seats."
"That's why we're proud to offer fans the most comprehensive and continuously updated selection of sports tickets online, with a worry-free guarantee to protect their purchase," added Ault.
"To access the full line-up of NHL Hockey tickets now available, customers can go to BuyAnySeat.com and click on the Sports Header, then click on NHL Hockey to select their team and their tickets."
This past January, puck lovers set an NHL attendance record when 105,491 resilient souls braved ruthless subzero temperatures to take in the Winter Classic at Michigan Stadium on New Year's Day. Over 8.2 million tuned into the TV broadcast making it the most watched regular season game of all time. After setting more viewership records during the Winter Games, hockey fans are eager to see their favorite players back on home ice.
The post-Olympic power rankings position three western teams as the primal contenders in the final weeks. The Anaheim Ducks lead the way having won 41 games before the break but maintained just a 3-point lead during the league's hiatus. Meanwhile, the Chicago Blackhawks and St. Louis Blues are duking it out for second after grinding into the break tied with 84 points apiece.
In the East, the battle for first is between two bitter rivals. Five points separated the Penguins and Bruins as the Olympics played out and the two teams will likely face each other again in the conference championships come April. The Bruins swept the Penguins four games to none in 2013 but this year Pittsburgh owns the early advantage with a short lead in the conference.
The rest of the top ten teams include the San Jose Sharks, Colorado Avalanche, Tampa Bay Lightning, Montreal Canadiens, and Los Angeles Kings.
The U.S. men's hockey team defeated a potent Russian squad for the first time since the "Miracle on Ice" win in 1980. Despite a 7:30 AM TV airtime, a record 4.1 million Americans tuned to watch the red, white, and blue skate to a 3-2 shootout win. Canada ultimately defeated the U.S. and defended its Olympic title with a 3-0 victory over Sweden. Both the American and Soviet teams failed to podium.
There were also several injuries suffered by high-profile NHL players in Sochi, highlighting what has long been one of the biggest concerns from league management. Detroit captain Henrik Zetterberg with the Swedish team, Columbus defenseman Fedor Tyutin of Russia and New York Islanders star and captain John Tavares of Canada will all miss time due to injuries according to nhl.com.
Before the games even began, league executives were already concerned that Sochi required a longer season interruption than ever before. And now, with these latest injuries to top players, there has been talk about again stopping the NHL's participation in the games. While many may not be able to imagine the Olympics without NHL players, remember that the 1980 "Miracle on Ice" took place without any of the league's members allowed to play. (Source: http://www.nhl.com/ice/news.htm?id=705017, nhl.com, 2/28/2014)
Eight games were played yesterday, including the top ranked Anaheim Ducks (42-14-5) versus the Carolina Hurricanes (26-25-9) last night. Results were not in by press time.
To shop for NHL Hockey tickets, visit BuyAnySeat.com.
About BuyAnySeat.com: An online ticket marketplace, BuyAnySeat.com connects sports, theater and other live entertainment fans to an extensive network of ticket sellers worldwide. The site's simplified listings and navigational tools enable shoppers to easily locate, compare and purchase inexpensive, discounted or lower-priced tickets to virtually all advertised sports and entertainment events around the globe.
The ticket marketplace, which is PCI-compliant and Norton Secured, also provides customers with a complete Worry-Free Guarantee on all ticket purchases. Based in Denver, Colorado, BuyAnySeat.com is a subsidiary of Denver Media Holdings. For more information, please visit http://buyanyseat.com.