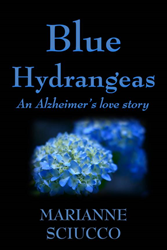 IndieReCon is an up and coming event, and this award will only grow more valuable over time. - Marianne Sciucco, award winning indie author
Middletown, NY (PRWEB) March 04, 2014
Indie author Marianne Sciucco's Kindle bestseller "Blue Hydrangeas," an Alzheimer's love story, recently won IndieReCon's first ever Best Adult Indie Novel Award.
"I'm still a little shocked," says Sciucco, a registered nurse who published her first novel in April 2013. "It's always a thrill to be nominated for an award, but I never thought I'd win. There was some stiff competition - 36 other titles - and when I checked in, I saw I was lagging behind. When I received the email that I'd won I was ecstatic. IndieReCon is an up and coming event, and this award will only grow more valuable over time." She plans to use the prizes - a free ebook format from Novel Ninjutsu and a free ecover from graphic designer Heather McCorkle (McCorkle Creations) - to produce her next novel, "Swim Season," scheduled for release in August.
"Blue Hydrangeas" is the sad but beautiful story of a retired pair of Cape Cod innkeepers struggling with the wife's Alzheimer's. Amazon readers give it 4.7 stars. Reviewers say: "It's rare for an author to engage the reader so adeptly and genuinely." "A little reminiscent of 'The Notebook,' but more heartwarming." "Wonderfully written! Warm. Tender. Thoughtful."
IndieReCon's second, free, online writers conference featured 36 hours of education and information on indie publishing spread out over three days, February 25-27. Close to 57,000 unique visitors tuned in as 26 authors and/or publishing professionals presented 34 informative sessions. Programs, many live, were posted on the IndieReCon website as blogs and vlogs and ran as chats on Facebook and Twitter.
"The best part of the conference," says Sciucco, "is you can catch any missed sessions at any time. The complete program is available on the website."
Founded by indie authors Ali Cross and S.R. Johannes, the conference was co-hosted by Chanda Hahn, Cherie Lasota, Heather McCorkle, and Christine Fonseca. Sponsors included Kobo, Alliance of Independent Authors (ALLi), IndieReader, Bibliocrunch, Smashwords, The Indelibles, Shelf Unbound, Author Marketing Club, and Author Ad Network.
The next IndieReCon is live, October 10-11 in Sandy, Utah. For details, visit IndieReConLIVE!
About the Author
Marianne Sciucco is not a nurse who writes but a writer who happens to be a nurse. A lover of words and books, she studied the craft of writing as an English major at the University of Massachusetts in Boston, and briefly worked as a newspaper reporter in New England. To avoid poverty, she became a nurse. In 2002, she began writing about the intricate lives of people struggling with health and family issues. She lives in New York's Hudson Valley, and, when not writing, works as a campus nurse at a community college.