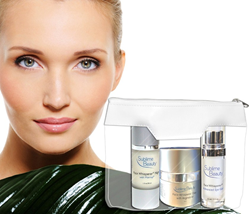 "Our Face Whisperer® Skincare Set is on sale for 2 days only. We offer free standard shipping on our new shopping site as well," says Kathy Heshelow.
St. Petersburg, FL (PRWEB) March 05, 2014
Face Whisperer® creams have been featured on television, which are popular anti-aging products. Now three of the products are offered in a Face Whisperer® Skincare set, and are on sale for 2 days only.
Use coupon code FW20SET at the new Sublime Beauty® Store for a 20% discount on March 5th and 6th only.
The Face Whisperer® Day cream features Argireline (the natural botox) to relax wrinkles, Trylagen® to boost collagen, and botanicals to moisturize and hydrate skin.
The Face Whisperer® Night cream features Matrixyl®, a peptide that can double collagen levels. Loss of collagen as we age is a contributing factor to sagging, wrinkles and thinning of skin.
The Face Whisperer® Advanced Eye Gel features three patented ingredients to diminish puffy eyes, wrinkles and bags.
"We offer our great line together in a convenient bag, and at a discount for 2 days only," says Kathy Heshelow, founder of Sublime Beauty®. "Plus our new site offers free standard shipping, and VIP Points with each purchase for future discounts. Simply create an account to proceed."
The sale ends Thursday March 6th.