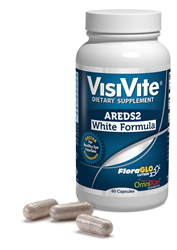 Vita Risk DNA testing paired with VisiVite® AREDS2 White Formula eye vitamins is a promising new visual health strategy.
Huntington, New York (PRWEB) March 04, 2014
Inspired by the National Eye Institute's Age-Related Eye Disease Studies (AREDS and AREDS2) and the emerging health trend of DNA testing, AREDS2 White is designed to match the special nutritional needs of those who were born with genetic risk factors for macular degeneration.
VisiVite AREDS2 White is intended to be taken after DNA testing has confirmed an individual has 1-2 complement factor H (CFH) risk alleles. Research has shown that when people with this genetic makeup take the zinc that is commonly found in macular health supplements, the mineral may negate the benefits of other crucial macula-supportive antioxidants.
To identify CFH risk alleles, VisiVite recommends Vita Risk™ DNA testing by ArcticDX, a simple cheek-swab that can be performed at a doctor's office. "Vita Risk DNA testing predicts macular risks and suggests a genotype-tailored formula intended to achieve greater efficacy," explains ArcticDx CEO Greg Hines. "VisiVite's AREDS2 White is a quality genotype macular formula that we confidently recommend for those with CFH risk alleles and zinc sensitivities." The AREDS2 White zinc-free formula features:

FloraGLO® Lutein (10 mg): A macular antioxidant sourced from marigold flowers
OmniXan® Zeaxanthin (2 mg): Prized broad-spectrum antioxidants from paprika
Vitamin C (500 mg) & Vitamin E (400 IU): Natural antioxidant forms for potency & bioavailability
"Vita Risk DNA testing paired with VisiVite AREDS2 White is a promising new eye health strategy," says Dr. Paul Krawitz, acclaimed Ophthalmologist, Vitamin Science Inc. C.E.O., and VisiVite product formulator. "Calibrated for high-risk populations, AREDS2 White adds an extra layer of nutritional protection against macular degeneration, helping to support a better long-range eye health outlook."
VisiVite products are available at VisiVite.Com and through qualified eye doctors and pharmacies.