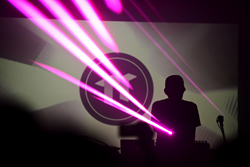 One of the coolest things I've ever seen done with lasers.
Seattle, WA (PRWEB) March 04, 2014
Fresh off his collaboration with Daito Manabe as part of The Creator's Project, Nosaj Thing performed live at Decibel Festival 2013 with Epic FX. Glitched beats, lasers and 3D visuals dazzled the crowd at the intimate Crocodile venue in downtown Seattle. This one-of-a-kind performance can now be seen HERE. Tracks performed include:
1. Eclipse/blue
2. Fog
3. Caves
4. Coat of Arms
5. Flying Lotus - Camel (Nosaj Thing remix)
6. Aquarium
7. Unknown Track
About Nosaj Thing
Nosaj Thing became involved in music at a young age, and hip hop has had a profound influence on his music. At the age of 12, he learned the basics of turntables and began to produce on the computer shortly thereafter. Nosaj Thing has since played at various shows and festivals including Sónar Festival and Coachella Valley Music and Arts Festival. He self-released his debut EP, Views/Octopus, in 2006. His first full-length album, Drift, was released in 2009. The remix album, Drift Remixed, was released in 2010. His sophomore album, Home, was released in 2013.
About Epic FX
Founded in 2011, Epic FX is a Phoenix-based company that specializes in organic and interactive visual art.
Epic FX - http://epicfx.com
Nosaj Thing - http://nosajthing.com