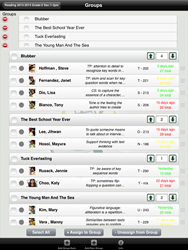 One way teachers can achieve a balance is by using extrinsic motivators at unpredictable times.
Mahwah, NJ (PRWEB) March 05, 2014
Andy and Ellen Raupp, co-founders of Powerhouse Education, provide their thoughts on classroom management during these types of days, whether snow-filled or not.
"Teachers use incentives all of the time to keep students on track," says Ellen. "This may come in the form of earning stars, a handful of marbles to be dropped into a jar, extra computer time, etc. These are known as extrinsic motivators. There can be danger in extrinsic motivation, as it can become counterproductive to behavior and learning if a sense of entitlement is cultivated. Some purists even contend that there is no place for it in the classroom."
Andy continues, "To this notion I am always reminded of a grad school course I took on classroom management. The professor was explaining how she was a strong advocate for intrinsic motivation. So strong in fact that one semester she told her students that they would grade themselves at the end of the class based on the grade they felt they genuinely earned. Surely adults who could fully appreciate and understand the notion of intrinsic motivation would only corroborate her strong stance on the subject. So what happened? The professor explained how she received the absolute worst quality of work ever from this semester's class! She was then forced to reconsider her viewpoint, and now sees the importance of balancing intrinsic and extrinsic motivation."
Andy and Ellen state that one way teachers can achieve this balance is by using extrinsic motivators at unpredictable times. Perhaps a star is earned because of an observed kind gesture, but a star is not earned for every kind gesture. Stars, marbles, or whatever the system may be, must be incorporated strategically and purposefully.
A point system is another example of an extrinsic motivator that can be a fantastic tool for managing behavior and boosting student achievement. Tablet technology can be used as a vehicle for the implementation of a point system. For instance, Powerhouse Education's app called Chronicle includes a point system that can be used to help manage groups, be it book discussion groups, science lab groups, debate teams, etc.
The individual teacher can use his or her discretion about how to utilize the point system, but regardless of how he or she decides to do so, points can be awarded for ideal behaviors and deducted for those behaviors teachers wish to discourage.
For example, a teacher may be trying to encourage students to refer back to the text and support their thoughts with evidence, a big focus found within the Common Core Standards. The teacher may notice a group doing exactly this and announce that the group just earned a point (by tapping on the up arrow). The class now knows that this is a type of behavior the teacher favors. If the teacher does not predictably provide points every time a group supports their thoughts with text evidence, over time – and without a sense of entitlement – there will be a greater frequency of these learning behaviors, thereby maximizing learning.
With more learning and fewer distractions, who knows, there may just be time to enjoy those snowflakes!
Powerhouse Education was founded by husband and wife teachers, Andy and Ellen Raupp. With each having approximately ten years of teaching experience, Andy and Ellen are board certified teachers working in a nationally top-ranked school district in New Jersey. Holding undergraduate and graduate degrees, both have been awarded the prestigious title of "Teacher of the Year". Understanding the increasing demands and expectations placed on teachers, Andy and Ellen created Powerhouse Education with the vision of providing teachers with the tools to effectively and more easily implement educational best practices, knowing that empowered teachers will yield stronger, more successful students.