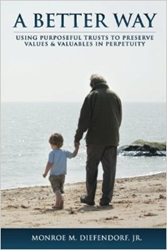 "The pain is not in the change, it's in the staying the same."
Glen Cove, NY (PRWEB) March 02, 2014
On February 7, 2014, at the Glen Cove Mansion, Roey Diefendorf presented to his wealth management team of professionals, the strategy for not just surviving, but thriving for the next 139 years. This day was the culmination of a 7 years planning process which ultimately led to the company's name change.
Diefendorf commented, "What we are working on today is much bigger than Diefendorf. Our approach to managing personal, financial and social wealth is a departure from traditional wealth management. It required a re-engineering of our firm."
As part of the new platform for delivering their 3D Wealth plans to their clients, Diefendorf created Argonne Trust Company of Dell Rapids, SD. "Our trust company is the most strategic move we have made in our company's long history. It's the game changer, the true differentiator." In his most recent book, "A Better Way; Using Purposeful Trusts to Preserve Values & Valuables In Perpetuity," Roey spells out the methodology for helping families distribute their assets in line with their values, thanks to Argonne Trust.
By redefining wealth in 3 dimensions, one must look beyond the traditional (1 dimensional) approaches to managing financial wealth. This radical redirection towards values based planning will provide a practical path for preparing heirs for creating, protecting and preserving their own 3 dimensional wealth.
To learn more about 3 Dimensional Wealth Advisory, go to http://www.3DWealthAdvisory.com.