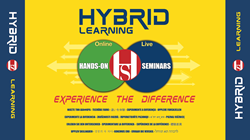 By the time they come to the workshop, they are ready to go, know what questions to ask and what to do.
Astoria, New York (PRWEB) March 03, 2014
Hands-On Seminars, Inc. (HOS), the leading international continuing education organization in the world, is proud to introduce a major breakthrough in continuing education – the Hybrid Interactive Education System. It combines the best of both worlds, the convenience of online with the hands on experience of a Practical Workshop.
One of the major complaints of online study is the lack of interaction with instructors as well as colleagues. HOS's unique approach of online forums enables the student to interact with both. The downside of Live Courses has been scheduling and time spent away from the practice in both travel and study. By empowering the student to study online and then provide the practitioner with a series of regional Practical Workshops, HOS has handled that objection completely. This is an incredible breakthrough in garnering continuing education credits for Physical Therapists as they can study and interact with colleagues and teachers online. By the time they come to the workshop, they are ready to go, know what questions to ask and what to do. HOS Hybrid enables practitioners to finish the practical workshop in half the normally allotted time. In fact they can finish two courses in one weekend.
Hands-On-Seminars' Hybrid Interactive Education System were developed and are under the direction of two of the most highly sought after educators and practitioners in the field: Dimitrios Kostopoulos, DPT, MD, PhD, DSc, ECS and Konstantine Rizopoulos, DPT, MCMT, FABS.
Dr Rizopoulos emphasized: "Most other online programs offer online courses without a solid practical/lab component. Manual therapy requires practice and this is what the HOS Hybrid concept offers therapists."
It enables practitioners to study at their own pace online. But unlike other online courses they have complete access to the HOS training staff and other students thanks to their online forums. Once a PT has completed the theory part of the program, the regional Hands-On-Seminars Practical Workshops provides the balance needed to fully comprehend the subject. Practical Workshops reinforce technique application using Problem-Based Learning (PBL), guaranteeing 100% standard technique application!