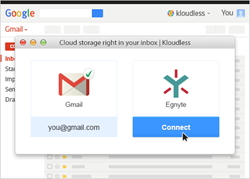 By continually expanding the ecosystem of supported cloud storage providers, Kloudless enables our users the freedom and flexibility to access their data from within their email, which saves time and streamlines the email workflow.
San Francisco, CA (PRWEB) March 03, 2014
Kloudless (http://kloudless.com), the company that brings cloud storage into the email inbox, today announced the availability of Egnyte support to its lineup of cloud services for its popular browser extension. The Kloudless extension, available for both Chrome and Firefox, lets users bring their cloud apps into their email inboxes while enjoying enterprise-level security. Kloudless users can send, receive and access their cloud files from directly within their email inbox, without the need to switch between multiple browser windows or tabs.
"By continually expanding the ecosystem of supported cloud storage providers, Kloudless enables our users the freedom and flexibility to access their data from within their email, which saves time and streamlines the email workflow," said Eliot Sun, CEO of Kloudless. "With the addition of Egnyte, Kloudless has nine major cloud services integrated, so our business users can manage their email attachments in the cloud, on their terms."
"Email is still one of the most widely used collaboration tools in business, but lost attachments, files size limits and clogged bandwidth can really slow down productivity," said Vineet Jain, co-founder and chief executive officer at Egnyte. "The integration between Kloudless and Egnyte provides businesses with a secure, streamlined approach to share and store files through email without the hassle, and matches to employees' collaboration preferences."
Get Egnyte In Your Email Inbox
Appropriate for personal and enterprise email attachment management, Kloudless puts access to cloud storage in users' email inboxes. This integration combines the power of Egnyte's world-class enterprise file sharing and synchronization with Kloudless browser extension to provide users with the ability to easily and securely access, share and manage files or attachments from within their email inboxes.
With the ability to Egnyte directly from their email inboxes, users can streamline email attachment handling processes. Key features of Kloudless for Egnyte include:

Flexible Deployment for Any Use Case - users who sign up for Kloudless will have the option of setting up a new Egnyte account or connecting with an existing Egnyte account directly from one of the Kloudless settings screens. Egnyte's storage and sync solutions offer customers flexibility, with offerings in the cloud, strictly on-prem, or through a combination of both. Users must license their Egnyte solution directly from Egnyte.
Enterprise grade security - bank-grade security (256-bit RSA encryption, SSL for all data in transit) protects users' data as Kloudless processes and transfers the data to the cloud storage locations designated by users. Internal and external firewalls, monitoring systems, intrusion detection systems and a dedicated Ops team handle any system or security issues that may arise. Egnyte requires that all users go through an authentication process before accessing their files, with user permissions that are granularly enforced to ensure only the right users have access to the right files. Egnyte's comprehensive security (256-bit AES encryption for data and transmission security, ICSA-certified firewalls for network security, and Tier II, SSAE 16 compliant colocation facilities for physical security) ensures it is FINRA compliant for financial services businesses and HIPAA compliant for healthcare, pharmaceutical and biomedical businesses.
Automation - users can eliminate manual, repetitive actions by setting rules that allow Kloudless to file attachments into the cloud. Rules can be customized by email sender, recipients and keywords; file name, type and size; or cloud service and folder.
Link insertion or deletion of moved attachments - users can save email inbox space while maintaining the full context of the original email by replacing incoming files with safe, secure links.
Multi-browser, email service and cloud support - Kloudless runs on Chrome and Firefox web browsers within Gmail. Support for the Outlook desktop client is also available. Kloudless now supports Egnyte in addition to Box, Dropbox, Google Drive, Microsoft OneDrive (Skydrive), Bitcasa, SugarSync, Copy and others.
Businesses require integrated productivity and collaboration tools to enable employee productivity. This integration streamlines the collaboration process around documents by eliminating the need to use valuable email storage space or risk file attachment limits on email servers. The powerful combination of Egnyte's hybrid file-sharing solution with Kloudless' browser plug-in combines the best benefits of on-premise and the cloud to redefine productivity for the email collaboration process.
Pricing and Availability
Egnyte support from Kloudless is available now and at no cost, on the Web at Kloudless.com (http://www.kloudless.com) and by installing the free Chrome or Firefox extension (http://www.kloudless.com/download). Kloudless users must register with Egnyte to obtain access to the Egnyte service.
Egnyte is available on the Web at Egnyte.com (http://www.egnyte.com/) with specific pricing information on different plans (http://www.egnyte.com/corp/plans_pricing.html). Egnyte is also available on multiple mobile devices, including iPhone, iPad, Android, Kindle Fire, Nook, Windows Mobile and HP webOS (http://www.egnyte.com/file-server/mobile-access.html).
About Kloudless
Founded by Cal alums and backed by prominent angel investors including David Sacks, founder of Yammer and Tim Draper, managing director of Draper Fisher Jurvetson, Kloudless is the best way to add your favorite cloud storage services to your email inbox. The company's products help users easily and securely work across many cloud services. It also helps companies gain visibility into cloud data ownership and control the data workflow across SaaS applications. Kloudless' product is being used globally across many industries. The company is headquartered in Berkeley, CA. Download at kloudless.com or follow us at http://twitter.com/kloudless and http://facebook.com/kloudless.
About Egnyte
Over 1 billion files are shared daily by businesses using Egnyte's unique technology, which provides the speed and security of local storage with the accessibility of the cloud. Users can easily store, share, access and backup files, while IT has the centralized administration and control to enforce business policies. Founded in 2007, Egnyte is based in Mountain View, California and is a privately held company backed by venture capital firms Google Ventures, Kleiner Perkins Caufield & Byers, Floodgate Fund, and Polaris Venture Partners. For more information, please visit http://www.egnyte.com or call 1-877-7EGNYTE.