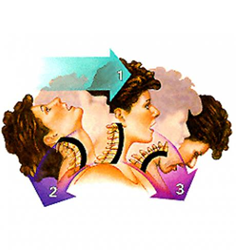 San Francisco, CA (PRWEB) March 03, 2014
Whiplash is one of the most common conditions experienced by individuals who have been in a car accident. It occurs as a result of unnatural movement of the spine and is characterized by intense neck pain which can cause discomfort and inhibit normal range of motion. The stretching and tearing of the ligaments, muscles and tendons around the neck can make movement painful, especially if there is an accumulation of scar tissue within the area. Although the neck is the most commonly injured area, whiplash can occur in any part of the spine and be exacerbated by the tension in seat belts.
"For individuals with whiplash, it is possible for the worst of the symptoms to not become apparent for weeks or sometimes months after experiencing a car accident," says Dr. Jacobs, head clinician at the Financial District location. "It is also common for other symptoms to arise in individuals with whiplash, especially TMJ pain. The possibilities of sustaining further damage, along with whiplash, are very real. Even the smallest fender bender can cause permanent soft tissue damage if left untreated."
Chiropractic care is a way to immediately address the soft tissue damage sustained in a car accident. Using treatment modalities such as ART and Graston to treat soft tissue damage, breaking up the scar tissue that forms restoring the damage tissue back to healthy tissue. As for the misalignments that occur to the spine from the trauma of a motor vehicle accident the chiropractic adjustment is used to realign the spine and restore the body to an optimal state of health and functioning. Because it may take some time for the symptoms of whiplash to present, the initial damage occurred from a car accident can become worse if it is not diagnosed and addressed. This leads to a decrease of muscle strength as range of motion is limited by scar tissue, inflammation, and damage to ligaments and other soft tissues.
"It is important to consult a medical professional as soon as possible after being in a motor vehicle accident," says Dr. Gustin, head clinician at the Mission/Bernal Heights office. "If injuries are sustained and not treated, then there will be residual pain, weakness, and loss of function. A full musculoskeletal exam with screens for concussion or head trauma is critical in the early stages after a motor vehicle accident. It is important to address injuries from motor vehicle accidents in order to prevent deconditioning, loss of strength and limitation of function in everyday life. Chiropractic care is one of the best treatments that can directly address these kinds of injuries and help return patients to a pain free life."
To encourage individuals to be aware of the damage that whiplash can cause, SF Custom Chiropractic is dedicating the month of March to whiplash awareness. Individuals who have recently been in a motor vehicle accident can make an appointment for a complimentary consultation with one of the SF Custom Chiropractic physicians to assess their level of injuries and discover treatment options to return them to their optimal level of wellness. For more information, contact the office at (415) 788-8700.
Based in the Financial District of San Francisco, SF Custom Chiropractic opened in January 2011. In July 2013, SF Custom Chiropractic opened its second location between Bernal Heights and Mission District. Head treating doctor, Dr. Adam Jacobs received his doctorate from Palmer West College of Chiropractic (known for being the leader of sports chiropractic). Dr. Anthony Gustin received both his doctorate and masters from University of Western States in Portland Oregon. Both Dr. Jacobs and Dr. Gustin are Certified Chiropractic Sports Practitioners. In addition to their doctorate degrees, Dr. Jacobs and Dr. Gustin have full body A.R.T.® Masters certifications and long nerve entrapment certification and Dr. Gustin has received a Masters of Science in Exercise and Sports Science. SF Custom Chiropractic takes a holistic full body approach to fix underlying structural problems associated with back pain and many other musculoskeletal disorders. For more information, visit http://www.sfcustomchiro.com or follow us on Twitter @SFCustomChiro.