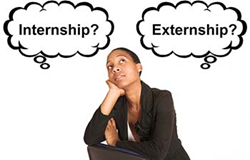 Washington, DC (PRWEB) March 05, 2014
Summer is fast approaching and students all over the country are already applying for summer internships. But what about externships? What are they, and what's the difference between the two?
Internships and externships are both on-the-job training programs for high school students, college students and sometimes other professionals. They are similar to apprenticeship programs which are designed to teach someone a skill or trade in a professional environment.
But there are some differences:
#1 - Externships are shorter than internships - Internships are longer in duration and can last anywhere from 2-3 months, a semester, and in some cases an entire year. Externships, on the other hand, are for a considerably shorter length of time - sometimes just a few weeks.
#2 - Externships are more observational - Students serving as interns will be given meaningful projects, be assigned responsibilities, and work deadlines and expectations. Externships, however, are generally considered job shadowing opportunities. Students are typically just observing, exploring and asking questions.
#3 - Externships can lead to internships - A student participating in an externship can possibly be hired for an internship within the same company. So externship students should approach this job-shadowing opportunity with the same amount of professionalism, and commitment they would demonstrate with an internship.
Both internships and externships are great opportunities for students to gain valuable exposure into their chosen profession, and both offer benefits that can help students make good career choices. In summary, an externship can lead to an internship, and an internship can lead to a job. So both can be quite useful.
To search hundreds of 2014 externship opportunities, visit:
http://www.Externships.com
To search hundreds of 2014 internship opportunities, visit:
http://www.FindInternships.com