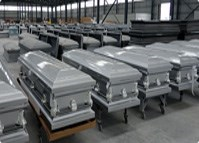 (PRWEB) March 03, 2014
Recently, MillionaireCasket.com, the premier casket company, has proudly introduced its metal casket promotion to show appreciation to all casket distributors worldwide. Now, all casket distributors and re-sellers can get a discount, up to 31% off, when buying metal caskets at MillionaireCasket.com.
MillionaireCasket's metal caskets are made in 16, 18, 19 and 20 gauge steel or bronze, which are naturally resistant to rust and corrosion. The interiors are chemically treated to resist rust and corrosion. The most popular metals include bronze, copper and stainless steel.
"We are happy to launch the promotion, and make our high quality caskets available to more distributors worldwide," said a sales manager of the company. "We differentiate ourselves through quality and innovation. Customers can access our website for more information."
Moreover, MillionaireCasket.com's urns, embalming tables, stretchers, church furniture, church trucks, keepsakes and other related funeral products are popular on the market.
About MillionaireCasket.com
MillionaireCasket.com is a leading casket company based in China. It focuses on the business of casket wholesale. It offers an exquisitely crafted line of all kinds of metal caskets, solid oak caskets, veneer caskets, cremation caskets, rental caskets, orthodox caskets, infant or over-sized caskets and European style coffins. For more information about MillionaireCasket.com , people can visit: http://www.millionairecasket.com/.