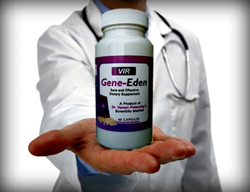 We recommend that individuals with piercings who are concerned about HPV infection speak to their doctors about Gene-Eden-VIR. This natural antiviral was designed to help the immune system target the latent HPV virus. - Mike Evans, polyDNA
Rochester, NY (PRWEB) March 08, 2014
In its February 2014 survey, polyDNA discovered that some young people want to know if genital warts can affect piercings in the genital region. In men, these type of piercings include at least 9 different kinds of penile piercings, and in women, at least 9 different kinds of clitoral or other vaginal piercings. These piercings are usually done with a hollow gauge needle and the installation of jewelry into the genitals (1). Most people are unaware that "minor trauma from a penile ring could facilitate the entry of HPV into mucosal epithelial cells (1)." polyDNA recommends that individuals with genital piercings, and who are concerned about HPV, talk to their doctors about Gene-Eden-VIR. This natural antiviral was proven to reduce HPV symptoms in a post-marketing clinical study that followed FDA guidelines.
Although relatively rare, it is possible that HPV can enter the urethra from the piercing trauma (1). "Urethral warts are caused by human papillomavirus (HPV) and are easily spread by sexual contact, with more than 30 HPVs infecting the genital tract." (See Medscape.com, last updated August 1, 2012) (2). "Condoms are likely to reduce these risks and are therefore useful but these may be more likely to fail in individuals who have genital piercings as body jewelry can damage condoms during intercourse (1)." In other words, condoms are less effective when used by people who have genital piercings.
"The majority of newly acquired genital HPV infections are subclinical and asymptomatic (that is, not severe enough to present definite or readily observable symptoms) (2)." However, if someone has HPV and they develop urethral warts, there may be complications. These include, recurrent disease, urethral strictures (blocked urethra) and related problems - reduced urinary flow/urinary obstruction, infertility due to urethral and ejaculatory duct obstruction, and associated malignancies - penile and cervical intraepithelial neoplasia (pre-cancerous cellular changes) (2), etc.
Finally, "after a long period of latency, individuals infected with certain HPV subtypes are at risk of developing squamous cell carcinomas (2)." In other words, if someone is infected with certain strains of HPV, they are in danger of developing some types of cancer.
"We recommend that individuals with piercings who are concerned about HPV infection speak to their doctors about Gene-Eden-VIR. This natural antiviral was designed to help the immune system target the latent HPV virus." - Mike Evans, polyDNA
A recent post marketing clinical study published in the peer reviewed, medical journal Pharmacology & Pharmacy, in a special edition on Advances in Antiviral Drugs on August 12, 2013 showed that Gene-Eden-VIR is safe and effective (3). Additionally, up to 70% of those studied reported a decrease in HPV symptoms (3).
Each ingredient of Gene-Eden-VIR was chosen through a scientific approach. Scientists scanned thousands of scientific and medical papers published in various medical and scientific journals around the world to identify the safest, most effective natural ingredients that target the latent form of HPV. (3)
To learn more about Gene-Eden-VIR and HPV, visit http://gene-eden-kill-virus.com/HPV-Remedy.php. All orders of Gene-Eden-VIR are completely confidential, and no information is shared or sold to any third party. Privacy is assured.
Reference:
(1) Intraurethral condylomata acuminata associated with genital piercings. Published in January 2013.
http://www.ncbi.nlm.nih.gov/pubmed/23512508
(2) Medscape - Urethral Warts - Overview. Last updated on August 12, 2012.
http://emedicine.medscape.com/article/443006-overview
(3) Gene-Eden-VIR Is Antiviral: Results of a Post Marketing Clinical Study. Published on August 12, 2013.
http://www.scirp.org/journal/PaperInformation.aspx?PaperID=36101
polyDNA is a biotechnology company that develops dietary supplements using the unique scientific method developed by Dr. Hanan Polansky, which is based on Computer Intuition.
In addition to his unique scientific method, Dr. Polansky published the highly acclaimed scientific discovery, called Microcompetition with Foreign DNA. The discovery explains how foreign DNA fragments, and specifically, DNA of latent viruses, cause most major diseases.
polyDNA developed Gene-Eden-VIR , an antiviral natural remedy that helps the immune system kill latent viruses.