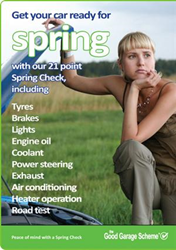 There may be cars on the road in need of a check-up and a little TLC before what we hope will be a calmer spring
Coventry, West Midlands (PRWEB UK) 5 March 2014
The Good Garage Scheme is encouraging motorists to get their vehicles checked over following a winter of extreme wet and windy weather. The exceptional run of winter storms, which culminated in the wettest December to January period since records began, has led to poor road conditions which may impact the performance and safety of vehicles.
Good Garage Scheme members will be offering Spring Checks from 1st March, to ensure cars have not been damaged by road debris or water and are in good condition ready for the milder weather. The Spring Check examines the condition of tyres, brakes and air conditioning as part of a 21 point assessment designed to bring peace of mind to motorists.
Good Garage Scheme Administrator, Angelo Chillari said:
"The severe flooding and storms have taken their toll on both roads and vehicles and I imagine many rural motorists have been unable to get to their local garages for winter servicing and checks. The combination of these factors means there may be cars on the road in need of a check-up and a little TLC before what we hope will be a calmer spring."
The Good Garage Scheme provides an online searchable database of trustworthy garages across the UK. All member garages perform services to a strict Code of Conduct and must agree all work with customers prior to carrying it out.
To find a garage in your area offering the Spring Check or to learn more about the Good Garage Scheme please visit [http://www.goodgaragescheme.com
It's like having a friend in the know!