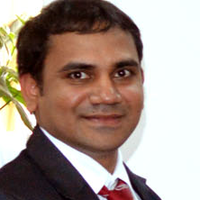 Dr. Srinubabu Gedela recieves felicitation from the Andhra University
Henderson, NV (PRWEB) March 03, 2014
OMICS Group International's CEO and Managing Director, Dr. Srinubabu Gedela was felicitated by the Andhra University at the International Conference on Environmental Biotechnology and Biodiversity held at the university campus itself.
OMICS Group International started with a vision of making scientific and healthcare information open access and available to all free of cost. In the light of this vision, OMICS Group started OMICS Publishing Group and OMICS Group Conferences. OMICS Publishing Group is an open access publisher who published online scholarly and peer-reviewed journals which are now more than 350 in number and being published in the fields of Clinical, Medical, Engineering & Technology, Environmental, Management and Life Sciences. OMICS Group Conferences is a scientific event organizer which hosts around 100 International Conferences each year all around the world, thus creating a global platform for scientists, academicians and industrialists of similar interests to gather and discuss recent issues and discoveries.
International Conference on Environmental Biotechnology & Biodiversity, a conference with a theme "A Gateway to a Sustainable Future" as EBIO 2013 was organized by the Department of Chemical Engineering, Andhra University College of Engineering, Andhra University, Visakhapatnam, Andhra Pradesh.
Dr. Srinubabu Gedela, who pursued a B. Pharmacy and M. Tech from Andhra University, and a post-doctorate from Stanford University, was felicitated by the university in recognition of his contribution to the scientific community and in a direct way to the field of Science, in India as well as globally. Dr. Gedela received a Young Scientist Award at the HUPO 2007 Conference, where he learned that there was a dire need of making scientific and healthcare information open access and this is when he formed OMICS Group International.
OMICS Group partnered with the EBIO 2014 Conference at Andhra University and was a major conference and contributing partner at the conference. Dr. Gedela was observed as a patron and an honorable guest at the conference. The University was proud to felicitate an alumni whose functions and determination has created a new era in the field of open access publishing and contributions towards the scientific community.