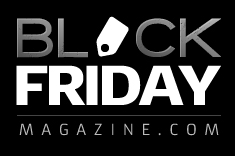 HDTVs, DVDs and Blu-ray collections are currently big sellers, and Black Friday Magazine is always on top of the best discounts and deals.
New York, NY (PRWEB) March 05, 2014
The day after Thanksgiving has been dubbed "Black Friday," and is the most popular shopping day of the year. This is the time when practically every retailer, from mall shops to big box discounters, offer some of the best deals of the holiday shopping season. But for savvy shoppers--who know where to look for the deepest discounts, biggest door-busters, top-secret promo codes and craziest clearance sales--any day can be Black Friday.
Black Friday Magazine is the number one source for Black Friday ads, sales, deals and news. Today, Black Friday Magazine is launching their "Black Friday Every Day" campaign to bring you the best deals from top retailers like Walmart, Amazon.com, JC Penney, Best Buy, Target, Macy's and more.
In addition to letting readers in on the best deals, Black Friday Magazine also brings readers the latest in consumer technology, so all of shoppers can make more informed choices on which of the current selection of TVs, computers and mobile devices best suit their needs and their pocketbook.
THE BEST DEALS OF 2014 DELIVERED EVERY DAY
What are some of the best Black Friday Every Day deals? Over just the past month, Black Friday Magazine has featured great offers from Best Buy, JC Penney, Boost Mobile and many more.
President's Day weekend brought a bumper crops of sales from Amazon, JC Penney, Kmart, Kohl's, Macy's, Office Depot and more, plus, Best Buy offered 25% off HDTVs.
Some of the most tempting deals are on premium smartphones from brands like Apple and Samsung. One of February's most popular deals came from Best Buy, where for a limited time shoppers could get $50 off the iPhone 5S and iPhone 5C. The 16GB iPhone 5C sold for only $49.99 with a contract; the iPhone 5S for a low $149.99. Also in February, Target offered a free $50 gift card with the purchase of an iPad Air or iPhone 5S.
HDTVs, DVDs and Blu-ray collections are currently big sellers, and Black Friday Magazine is always on top of the best discounts and deals. Best Buy recently offered deals on "Game of Thrones" complete third season Blu-ray/DVD collection, discounted to $29.99, and 40-inch LED TVs on sale for only $449.99 (marked down from $499.99). For a limited time, orders from Best Buy that total more than $25 shipped for free.
For Valentine's Day, Amazon discounted its best-selling line of Kindle tablets up to $80. The most impressive deal was on the Kindle Fire HD 8.9" 16GB tablet, which was discounted from $269 to just $189—a great price for a full-size tablet that can compete nicely with Apple's much pricier iPad.
Black Friday also brings you the latest deals from the wireless carriers that are competing for consumer business. February brought deals from AT&T, Boost Mobile and U.S. Cellular. This week, Boost is offering $50 in savings off the Boost Warp 4G.
SPRING IS BUSTING OUT AT BLACK FRIDAY MAGAZINE
March is a great month for sales, and more hot deals are coming from Black Friday Magazine. What can readers look forward to?
Amazon really wants to sell you a Kindle Fire HDX tablet, because Kindle users spend much more money at Amazon than those who buy competing tabs. That means shoppers will be able to score more great deals on all Kindle models, and Black Friday Magazine will feature those deals.
The Samsung Galaxy S5 hits stores in April, meaning that there will be super deals on the Galaxy S4 over the next few weeks. This very popular big screen smartphone is sure to be offered free with a two-year wireless contract, and some retailers may sweeten the deal with a gift card.
Shoppers already seeing lower prices on the iPhone 5S and 5C, a trend that's likely to continue right up until the next iPhone model is released in the fall. Again, look for a gift card with any purchase.
The next big month for sales is May, when stores will be having weekend-long sales for both Mother's Day and Memorial Day. Black Friday Magazine will be telling readers where to shop for the lowest prices and sweetest deals over these holidays, and all year long.
Why wait for the official Black Friday to save on all the things you're looking for, when it's always a great shopping day at Black Friday Magazine?