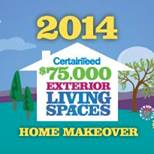 Valley Forge, Pa. (PRWEB) March 04, 2014
Your family home could be the next to receive the ultimate facelift from CertainTeed Corporation. North America's leading brand of building products has begun its hugely popular annual call for video entries from homeowners to showcase their wish lists for a dream house exterior redesign.
This summer, one lucky winner will receive $75,000 worth of exterior building products, including installation, through the 2014 CertainTeed Exterior Living Spaces® Home Makeover Contest.
To enter the contest, homeowners need to wrangle up their cast of kin, show off their acting talents and upload their most entertaining 30- to 90-second video to the CertainTeed Living Spaces Facebook® page (http://www.facebook.com/certainteedlivingspaces). Videos should creatively explain why their home needs a makeover using CertainTeed's expansive selection of polymer, insulated and vinyl siding, roofing, housewrap, decking, railing, fence and trim.
CertainTeed will be accepting entries through 11:59 p.m. EST on May 19 and will announce the winner on or about June 6.
Video entries will appear on the CertainTeed Living Spaces Facebook contest page where visitors can vote for their favorite until 11:59 p.m. EST on Memorial Day, May 26. The top 10 videos, as selected by Facebook users, will be in competition for best overall pick by CertainTeed judges. The winning family will also star in a series of Facebook and YouTube® video webisodes featuring their home's remarkable transformation, with the freedom to choose the latest mix and match of products, colors, styles and textures for exceptional curb appeal. Nine runners-up will each receive $500 exterior living spaces prize packages. For more information and complete contest details, visit http://www.facebook.com/certainteedlivingspaces.
CertainTeed offers unsurpassed Freedom of Choice™ through its industry-leading portfolio of roofing, long-lasting polymer, insulated and vinyl siding as well as fence, railing, decking and exterior trim. CertainTeed offers the advantage of using exterior products from a single source that are designed to mix-and-match with each other and feature authentic textures, versatile styles and rich color combinations, for a beautifully coordinated look. As the result of a strong commitment to environmental responsibility, CertainTeed is the first manufacturer to issue and publish third-party validated life cycle assessments (LCA) for its vinyl and trim product lines. For more information, visit http://www.certainteed.com/freedomofchoice.
About CertainTeed
Through the responsible development of innovative and sustainable building products, CertainTeed, headquartered in Valley Forge, Pa., has helped shape the building products industry for more than 100 years. Founded in 1904 as General Roofing Manufacturing Company, the firm's slogan "Quality Made Certain, Satisfaction Guaranteed," quickly inspired the name CertainTeed. Today, CertainTeed® is North America's leading brand of exterior and interior building products, including roofing, siding, fence, decking, railing, trim, insulation, gypsum and ceilings.
A subsidiary of Saint-Gobain, the world's largest building products company, CertainTeed and its affiliates have more than 5,700 employees and more than 60 manufacturing facilities throughout the United States and Canada. For five consecutive years, the company has received top honors from the U.S. Environmental Protection Agency for its contributions in protecting the environment and was most recently the recipient of the 2013 ENERGY STAR Sustained Excellence Award. The group had total sales of approximately $3.3 billion in 2013. http://www.certainteed.com