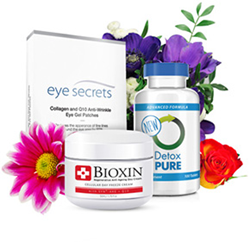 (PRWEB UK) 5 March 2014
On March 8, Bauer Nutrition joins the globe in celebrating women, their uniqueness and their contributions. Women around the world are honoured for being hands-on in building a more prosperous and peaceful society. It's also a day to showcase women's strength, intelligence and courage.
Bauer Nutrition would like to celebrate women, their success and their progress by launching a limited edition package called "Make Me Glow". This package is destined to allow ladies to pamper themselves or be pampered on this special occasion. This exclusive package is made of 3 amazing products: Detox Pure, Collagen & Q10 Patches and Bioxine Regenerative Anti-aging Day Cream.
These 3 products will help women get rid of toxins, cleanse their body, boost their energy and have a relaxed and glowing skin. Basically, it has all what they need to take on other challenges with confidence! Bauer Nutrition is also offering 50% discount on this package (£66.95 instead of £133.9).
For further information and for product's details, please visit the package page: http://www.bauernutrition.com/limited-offer.