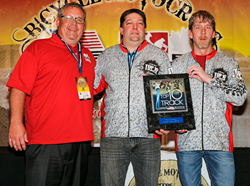 It is quite an accomplishment for any of the 380 BMX tracks in the country to be awarded the Top-10 Track award.
(PRWEB) March 05, 2014
Track Operator Justin Barnhart and Track Treasurer Bill Roehl of Brainerd accepted the Central Top-10 Track Award for Lakes Area BMX while in Louisville, KY for the annual USA BMX/BMX Canada Summit.
The award is given to the Top 10 tracks of the East, Central, and West regions of the country who have earned the highest track points. Points are based on new rider signups and returning annual riders. With over 380 BMX (Bicycle Motocross) tracks nationwide, it is quite an accomplishment for Lakes Area BMX to be amongst the Top-10 in the country.
About Lakes Area BMX: Founded in 1978, Lakes Area BMX is a 501(c)3 nonprofit organization providing a safe alternative sport for kids and adults in the Brainerd Lakes and surrounding areas. We strive to teach kids values and self worth and give families a great overall experience. We also give kids, that are on the outside of the box of other sports, a place to belong and challenge themselves to do better every time they hit the track and more importantly off the track. We also focus on teaching sportsmanship and camaraderie. Our motto is "Keeping Kids on the Right Track."
Lakes Area BMX races every Sunday and Tuesday, beginning in May - with practice days every Thursday.
For more information on Lakes Area BMX - contact: Justin Barnhart
Phone: 218-330-6420
http://www.brainerdlakesbmx.com