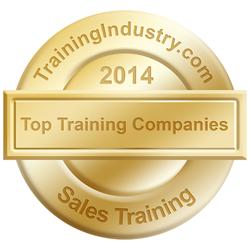 Philadelphia, PA (PRWEB) March 04, 2014
Richardson, a leading global sales training and performance improvement company, today announced that they have been named to the list of TrainingIndustry.com's Top 20 Sales Training Companies. This top 20 list is part of TrainingIndustry.com's mission to continually monitor the training marketplace and impartially identify the best providers of training services and technologies.
Recognition on the 2014 list marks the sixth straight year of inclusion for Richardson, having been named every year since its introduction. Top 20 companies are recognized for their outstanding service, a proven track record for delivering superior training, innovation, and the overall impact they have on client sales organizations. Criteria for the Top 20 Sales Training Companies list are based on a number of interrelated items, including:

Industry recognition
Innovation in the sales training market
Company size
Growth potential
Breadth and depth of service offerings
Strength of clients served
Geographic reach
"Being named to the Top 20 Sales Training Companies list for the sixth consecutive year is a great tribute to the entire Richardson team, as well as to all of our clients and their salespeople. Simply put, this is an honor that never gets old," said David DiStefano, Richardson President and CEO. "This achievement confirms the value and influence that Richardson continues to demonstrate in the sales training industry. Our commitment to innovation and bringing robust solutions to our clients remains core values."
"Continued strength in this segment reflects both the level of innovation and the introduction of new delivery and media types into the offerings of the top companies. We continue to believe that sales training is the segment leading the way in the areas of gamification and sustainability of the learning," said Ken Taylor, Chief Operating Officer, Training Industry, Inc.
About Richardson
Richardson (http://www.richardson.com) helps leaders prepare their organizations to execute sales strategies and achieve business objectives. Richardson has the expertise and resources to help clients scale their initiatives quickly and confidently across their entire sales force and supporting functions. Working together, Richardson identifies sales best practices, evaluates talent, builds capability and consistency through world-class sales training, and sustains necessary change. Richardson ensures that each solution reflects the unique culture and values of its client, driving rapid adoption and lasting results.
About Training Industry, Inc.
TrainingIndustry.com spotlights the latest news, articles, case studies and best practices within the training industry. Our focus is on helping dedicated business and training professionals get the information, insight and tools needed to more effectively manage the business of learning.