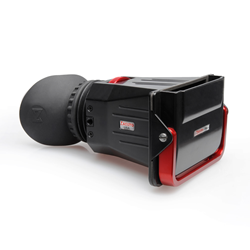 Chicago, IL (PRWEB) March 04, 2014
After months of design and testing, Zacuto is proud to announce the release of a hi-res Z-Finder viewfinder and accompanying accessories specific to the Canon C300 and C500. They offer quick setup, lightweight Recoil design, sturdy handles, a new-to-market 'helmet' cage and an innovative cold shoe clamping mount. The Zacuto C300/500 Z-Finder is not only a unique focusing tool but also aids with stabilization and enables balanced, comfortable handheld shooting.
The new C300/500 Z-Finder slides over the Canon LCD and is secured with a user-friendly bar clamp and hinge lock to keep the LCD in place. Use the Z-Finder alone or with Zacuto's new mounting system that places the Canon LCD to the left of the camera for shoulder mounted operation. This is perfect for a Recoil style rig where the camera is positioned directly over the operators shoulder for comfort, balance, and convenience.
"The Recoil rig with Z-Finder makes the C300/500 a production grade handheld camera that is affordable, small, light, comfortable and totally controllable while maintaining your hands on the grips but most of all, balanced on your shoulder. You can operate this thing all day without fatigue. This is the one you want." - Jens Bogehegn, Product Developer
To accompany the Z-Finder, Zacuto has released a number of additional accessories including a new concept 'helmet' that attaches to the camera body and provides multiple accessory attachment options. Also available for preorder are two new top handles, one of which includes a new cold shoe clamp system that replaces the plastic, twisting cold shoe handle of the Canon C300.
Zacuto product designer Steve Weiss says, "The thing I'm most excited about is the death of cold shoe instability with our new style of cold shoe clamping! RIP cold shoe--you twisted and turned but with the new Zacuto cold shoe clamp system you'll be rock solid and never moving again!"
The Zacuto C300/500 Z-Finder and all new accessories are available for pre-order. Visit the Zacuto website to pre-order, watch videos and discover more about these unique products from the design team at Zacuto. Also available through any Zacuto dealer. View more images here.
ZACUTO USA, located in Chicago, IL, is known for their "Made in the USA" brand of high quality, originally designed camera accessories. Zacuto Films produces original programming with EMMY's won in 2010, 2011, 2012, and 2013 (Midwest region).
Contact:
Rachel Kenton
Zacuto USA
401 W Ontario, Suite 100
Chicago, IL 60654 USA
Tel: 312 863 3456
Email: kenton(at)zacuto(dot)com
###